think3D, India's largest 3D printing platform has now expanded its 3D printer sales, printing services to Port Blair, Andaman and Nicobar Islands, India. This is as part of our endeavor to present in all the state capitals and prominent cities in India. Our Port Blair, customers are served through our regional hub at Chennai. So, if you wish to purchase a 3D printer in Port Blair,, please call us at (044) 3083 3583 or email us at info@think3d.in. Our person shall contact you within 24 hours and shall also provide free demo session at Port Blair, Andaman and Nicobar Islands.
Popular 3D printers
Makerbot Replicator 2X
Add a new level of creativity to your 3D designs with two interlaced colors that you can print simultaneously at a 100-Micron layer resolution. It's powered by an advanced slicing engine, leading to high quality, high impact prints every time. Know more
Ultimaker 2
Designed for non-expert and expert alike The Ultimaker 2 was created to be as accessible as possible.  Easy to use, the Ultimaker 2 is a truly revolutionary machine. Know more
FlashForge Finder
Flashforge Finder is super silent, simple and safer to use. 3.5 inch full color touchscreen with intuitive icons and slide-in build plate makes it very easy to operate the printer. Know More
Our Clients
| | | | |
| --- | --- | --- | --- |
| Microsoft | SAP | Polycom | WIPRO |
| BITS Pilani | IIT BHU | IISC | IIT Kharagpur |
| ITM University | Graphic Era | Vimal Jyothi | Acharya Nagarjuna |
| HCL | SRM University | DRDO | Indian Air Force |
| BHEL | General Electric | Whirlpool | MESCO Steel |
| Autopal | Merritronix | Raychem RPG | Trelleborg |
| Himalaya | Sunshine Hospitals | Brun Health | Chassis Brakes |
Customers Speak
think3D supplied couple of machines to us, one of which is a 3D printer. think3D team is reliable, was with us till the satisfactory delivery was made and minor post-delivery glitches were addressed. Highly dependable and trustworthy!
–  Dr. Srinivas Prakash Regalla, Professor, BITS Pilani
About think3D
think3D is India's largest 3D printing platform launched with the mission "3D Printing For All". At think3D, we offer 3D Printers, 3D Printing Services, 3D Scanning Services, Design Store and also provide latest news on 3D printing technology. Over the last 1 year, think3D served various reputed clients like GE, Microsoft, Polycom, HCL, Wipro, Himalaya Wellness, IITs, BITS Pilani and so on.
About Port Blair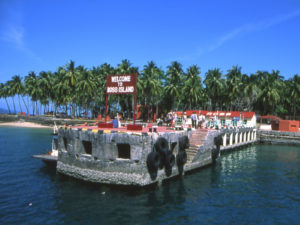 Port Blair is the largest town and a municipal council in Andaman district in the Andaman Islands and the capital of the Andaman and Nicobar Islands, a union territory of India. It lies on the east coast of South Andaman Island and is the main entry point to the islands.
Port Blair is the headquarters for the Indian district of South Andaman, and the local administrative sub-division (tehsil), which is also called Port Blair. It is the headquarters of the Andaman and Nicobar Command, the first integrated theatre command of the armed forces. It is home to several museums and a major naval base INS Jarawa of the Indian Navy, along with sea and air bases of the Indian Coast Guard and the Indian Air Force. Port Blair is also famous for the historic Cellular Jail and other small islands which were once home to British colonists.
Source: Wikipedia