think3d offers high quality 3D printing/ rapid prototyping service in Daman, Daman and Diu. We pride ourselves in being the most customer oriented 3D printing service provider, with timely communication. And most importantly, we use high quality imported printers and offer the most competitive prices in Daman, for 3D Printing services. We facilitate air shipping of the printed prototypes to Daman as well.
Our Clients
| | | | |
| --- | --- | --- | --- |
| Microsoft | SAP | Polycom | WIPRO |
| BITS Pilani | IIT BHU | IISC | IIT Kharagpur |
| ITM University | Graphic Era | Vimal Jyothi | Acharya Nagarjuna |
| HCL | SRM University | DRDO | Indian Air Force |
| BHEL | General Electric | Whirlpool | MESCO Steel |
| Autopal | Merritronix | Raychem RPG | Trelleborg |
| Himalaya | Sunshine Hospitals | Brun Health | Chassis Brakes |
Customers Speak
think3D supplied couple of machines to us, one of which is a 3D printer. think3D team is reliable, was with us till the satisfactory delivery was made and minor post-delivery glitches were addressed. Highly dependable and trustworthy!
–  Dr. Srinivas Prakash Regalla, Professor, BITS Pilani
About think3D
think3D is India's largest 3D printing platform launched with the mission "3D Printing For All". At think3D, we offer 3D Printers, 3D Printing Services, 3D Scanning Services, Design Store and also provide latest news on 3D printing technology. Over the last 1 year, think3D served various reputed clients like GE, Microsoft, Polycom, HCL, Wipro, Himalaya Wellness, IITs, BITS Pilani and so on.
About Daman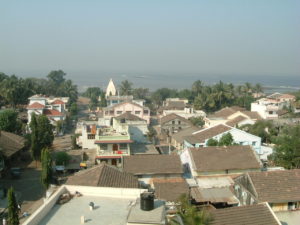 Daman is a city and a municipal council in Daman district in the union territory of Daman & Diu, India.
Daman is divided by the Daman Ganga River into two parts, namely Nani-daman (Nani meaning "small") and Moti-daman (Moti meaning "big"). Ironically, Nani-daman is the larger of the two towns. It is the downtown area that holds most of the important entities like the major hospitals, supermarkets and major residential areas. While Moti-daman is mainly the old city inhabited.
Source: Wikipedia
Get Started
Get started by submitting your 3D file (.STL or .OBJ formats). If you don't have the 3d file, explain your idea to our in-house design team, we can design the model and print the prototype. For any queries or to submit your design, drop an email to info@think3d.in or fill the form below. Our team will get in touch with you with more details and estimates.