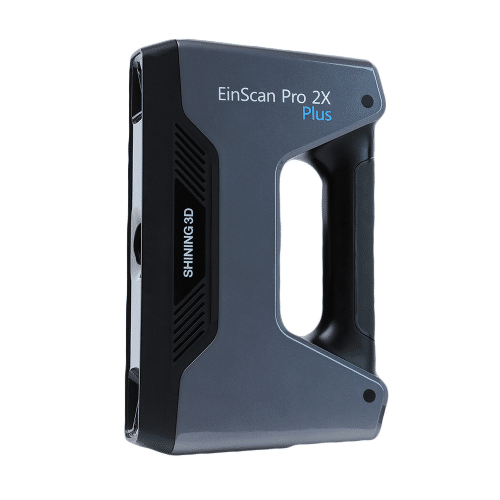 EinScan Pro 2X Plus
The EinScan Pro 2X Plus is both lightweight and compact in size, making it portable and extremely versatile. Weighing in at just over 1kg, you can take this 3D scanner just about anywhere, stretching the boundaries of what you can capture far beyond what a stationary system can offer.
This system is ideal for scanning small-to-medium sized objects, and it does so at an incredibly high speed without sacrificing quality.
The EinScan Pro 2X Plus offers four different 3D scanning modes: Handheld Rapid Scan Mode, Handheld HD Scan, and Fixed Scan Mode (both with or without a turntable). It also supports a range of alignment modes, including feature alignment, markers alignment, turntable coded targets alignment, and manual alignment.
Scan Modes
Handheld HD Scan
Handheld Rapid Scan
Fixed Scan
Scanning Accuracy
up to 0.05 mm
up to 0.01 mm
0.04 mm (single shot accuracy)
Scan Speed
20 fps; 1,100,000 points/s
30 fps; 1,500,000 points/s
Single Scan < 0.5s
Point Distance
0.2 mm-3 mm
0.25 mm-3 mm
0.24mm
Align Mode
Markers Alignment
Markers Alignment, Feature Alignment, Hybrid Alignment
Turntable Coded Targets, Feature, Markers, Manual Alignment (with turnable)
Markers, Feature, Manual Alignment (without turnable)
Texture Scan
No
No
Yes (with Color Pack Add-on)
Volumetric Accuracy
0.3 mm/m (Markers Alignment)
Single Scan Range
208*136 mm——312*204 mm
Depth of Field
±100 mm
Working Distance
510 mm
Light Source
LED
Outdoor Operation
Set up the shelter or cover to avoid direct sunlight
Special Objects for Scanning
For the transparent, highly reflective or some dark objects, please spray powder before scanning
Printable Data Output
Able to export watertight 3D model for 3D printing
Output Format
OBJ , STL , ASC , PLY , 3MF, P3
Scan Body Weight
1.13 kg
Supported OS
Win 7, Win 8, Win 10, 64 Bit
PC Requirements:
Display card: NVIDIA GTX770 or higher; Video memory>4G; CPU: i7 or higher; RAM: 16G or higher; USB 3.0