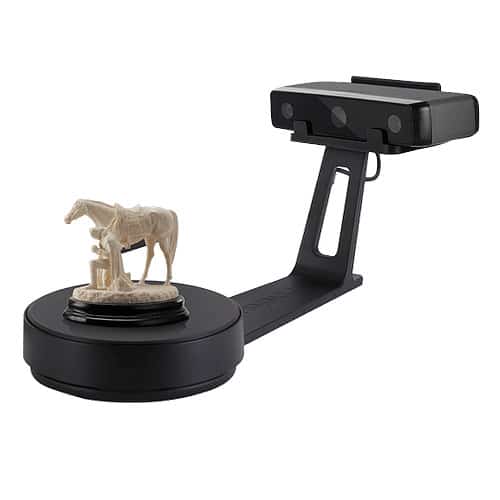 EinScan – SE (Elite)
EinScan-SE is a high quality desktop 3D scanner that delivers highly accurate (<= 0.1mm) printable 3D models . It takes less than 8 sec for a single scan and  less than 2 minutes for complete 360 degrees scan .
The  EinScan-SE is an upgrade in terms of performance and design from its predecessor Einscan – S.   Einscan – SE has two scanning modes – (a) Free Scan Mode  (b) Automatic Scan Mode. In Free Scan Mode, EinScan-SE can scan upto 700*700*700 mm and in Automatic Scan Mode, it can scan upto 200*200*200 mm.
Every scan generates a high-quality 3D data. Reconstruct the real geometry of the object with fine details.Auto meshing to watertight 3D data. Seamlessly connect to 3D printers. It Provides API access service for any brand 3D printers.
| | |
| --- | --- |
| Weight | 4.9 kgs |
| Dimensions | 570 × 210 × 210 cm |
| Maximum Scan Volume | Auto Scan : 200X200X200, Fixed Scan : 700X700X700 |
| Scan Speed | Complete scan 2 min, Single scan 8 sec |
| Scan Resolution | 1.3 mega pixel |
| Scanning Technology | Structured Light – White Light |
| Ourput file formats | Structured Light – White Light |
| Ourput file formats | OBJ, STL, ASC, PLY |