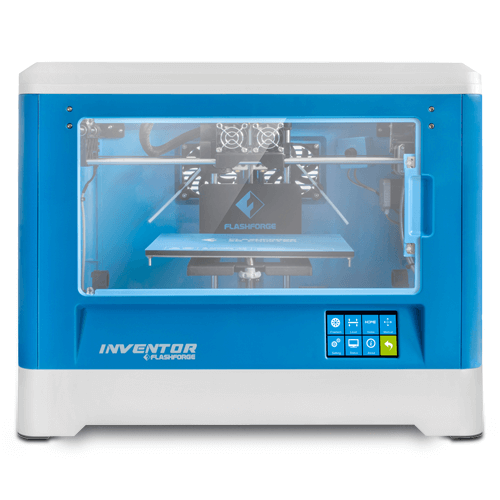 Flashforge Inventor
Flashforge Inventor is the upgrade version of the Flashforge Dreamer Series which includes an increased build height to the twin extruder and fully enclosed printing chamber with automatic temperature control. Also an automatic print resuming feature has been included.
Flashforge is a filament based 3D printer with a totally-enclosed design that is safe to use indoors & around children. Five cooling fans are equipped with a temperature activated sensor that regulates the build chamber temperatures. This enhances the print quality and prevents common issues of printing ABS and PLA. Inventor is also great for printing with soluble filament or even exotic filament such as flexible or composite materials.
Inventor features a built-in camera so you can monitor the progress of your prints remotely. Simply download and connect to the mobile app to see your design come to life. Bring your designs to life with Inventor today.
Flashforge Inventor is the upgrade version of the Dreamer equipped with many versatile features like onboard camera and greater build height to the twin extruder, heated bed and fully enclosed printing chamber.The FlashForge Inventor is ready to bring high-quality prints to life thanks to a fully enclosed and temperature controlled build chamber. Sensors inside the printer monitor the temperature and keep it constant using five built-in fans. This system ensures proper cooling of PLA filament and also proper heating of ABS to minimize warping. The Inventor also includes the camera which allows for live monitoring of your 3D prints from a connected computer or mobile phone.
The Flashforge Inventor's totally-enclosed build area features five fans and temperature sensors which allow the 3D printer to maintain the perfect environment for whatever filament you are printing with. Reduce stringing with  PLA by cooling the filament quickly after extrusion or keep ABS at the perfect temperature to minimize warping and promote bed adhesion. These features are powerful because no matter what kind of 3D printer filament you want to create with, the Flashforge Inventor allows you to get better results.
| | |
| --- | --- |
| Print Technology | FFF (Fused Filament Fabrication) |
| Build Volume | 228 x 150 x 160 mm |
| Printing Material | ABS/PLA/PVA/HIPS/Composite Materials |
| Filament Diameter | 1.75 mm |
| Layer Resolution | 50-400 microns |
| Positioning Precision | XY: 11 microns, Z: 2.5 microns |
| Nozzle Diameter | 0.04mm |
| Printing Speed |  24 cc/h |
| Extruder Temp. |  0-240°C |
| Heated Built Plate Temp. | 0-120°C |
| Connectivity | USB Cable/SD Card/WiFi |
| Supported OS | Windows XP/Vista/7/8/10, Mac OS X, Linux |
| Software | FlashPrint |
| FlashPrint | STL/OBJ |