Flexible 3D printer filament is also known as Soft filament. This filament is good for printing rubber-like parts that can bend or flex. It is compatible with almost all desktop 3D printers.
In general, most rubbers are thermoset; you heat them up, shape them, let them cool, and that shape is final. This isn't helpful when your 3D printer needs to change the shape of filament from a cylinder to your model. The opposite of thermoset is thermoplastic; you can melt and reshape your material almost indefinitely. By combining plastic polymers with rubber polymers, you get a Thermoplastic Elastomer (TPE). With this same principle, you can combine materials to create Thermoplastic Polyurethane (TPU), Polyester Copolyamide Thermoplastic Elastomer (PCTPE), or Soft PLA (combining PLA and saturating it in a specific chemical to soften it).
These materials are used in many industries from automotive instrument panels, caster wheels, power tools, sporting goods, medical devices, drive belts, footwear, inflatable rafts, and a variety of extruded forms like door trim or as a filament. More than 40% of all TPE produced is destined for use somewhere in a vehicle. TPE's common use in manufacturing makes it an easy transition from large scale manufacturing to 3D printing and rapid prototyping.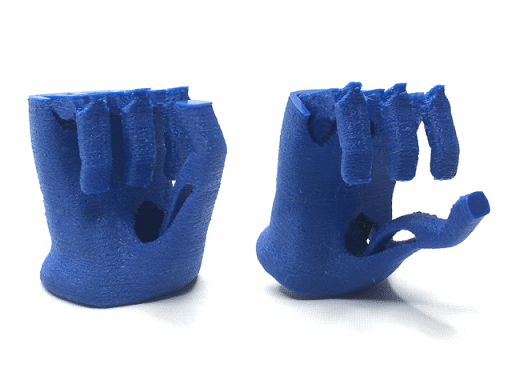 If you have printed with PLA filament, you will find it to be hard and brittle; drop it in the wrong way and it shatters. With a flexible material like MatterHackers PRO Series Flex, you can drop it a thousand times over and not break it. PRO-Flex can be stretched to 6 times its original length before breaking, and with our normal filament strength testing rig, we ran out of the room before it snapped.
Pros
Flexible and soft
Excellent vibration dampening
Long shelf life
Good impact resistance
Cons
Difficult to print
Poor bridging characteristics
Possibility of blobs and stringing
May not work well on Bowden extruders
| | |
| --- | --- |
| Bed Plate Temperature | 30°C – 60°C |
| Density | 1.215 g/cc |
| Extrusion Temperature | 210°C – 230°C |
| Filament Diameter | 1.75 / 2.85 mm |
| Filament Weight | 1 kg |
| Melt Flow Index | 5-7 g/10 minutes |
| Shipment Weight | 1.200 kgs |
| Tensile Strength | 114 MPa |
| Product Category | Standard |