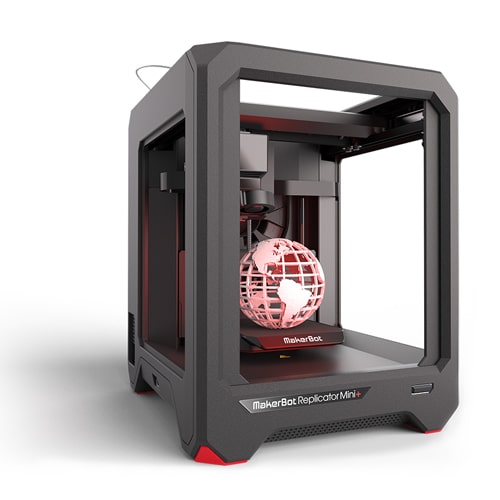 MakerBot Replicator Mini+
The MakerBot Replicator Mini+ is super easy to use, and it is packed with brand-new features. The MakerBot Replicator Mini+ makes three-dimensional objects out of melted filament.First, use MakerBot Print to translate 3D design files into instructions for the MakerBot Replicator Mini+.
Then, transfer those instructions to the MakerBot Replicator Mini+ via your local network, the MakerBot Mobile App, or USB cable. The MakerBot Replicator Mini+ will melt filament and squeeze it out onto the build plate in thin lines to build your object layer by layer.
MakerBot Mobile is a free app that gives you the power to wirelessly setup your MakerBot Replicator Mini+, monitor prints, and control multiple network-enabled MakerBot 3D printers over the Cloud.
Combines with Powerful Workflow Tools to Streamline the 3D Printing Process
Save time and accelerate iteration by pairing the Replicator Mini+ with MakerBot Print software and MakerBot Mobile. The Replicator Mini+ is Cloud-enabled so you can control it remotely with MakerBot Print or the MakerBot Mobile app. With MakerBot Print, you can import Native CAD files, auto-arrange them during print preparation, and then print them on one or more printers. To get started printing quickly and easily, MakerBot Mobile offers an all-new guided wireless setup.
Standardized Features for Easy 3D Printing
To ensure easy, accessible 3D printing, the MakerBot Replicator Mini+ comes with the Smart Extruder+ and all the standard features such as an on-board camera, as well as connectivity via Wi-Fi and USB cable.
Engineered for Reliable, Faster Printing and Backed by Extensive Testing
The MakerBot Replicator Mini+ prints 10% faster than its predecessor and offers a 28% larger build volume. For greater reliability and precision, it features improved hardware, like a redesigned Z-stage and refined gantry.
To ensure consistent performance, our new 3D printers and their subsystems were re-engineered and rigorously tested for 380,000+ hours across multiple facilities.
Grip Surface and Factory Leveled
With the new Grip Surface, prints adhere better, resulting in reduced warping and curling. And guess what? No more blue tape. The build plate is also factory-leveled so your Replicator Mini+ is ready to go right out of the box.
Get up and running quickly with the easy, guided wireless setup through MakerBot Mobile. Once you're ready, you can monitor and control your print jobs even when you're away via the 3D printer's on-board camera.
Much quieter printing
The MakerBot Replicator Mini+ is 58% quieter when printing, allowing for a more focused environment.
Advanced software
Control multiple printers from MakerBot Print so you can print on multiple build plates sequentially or simultaneously. Store, organize, and access 3D design files in your personal Cloud-enabled library. MakerBot Print is free downloadable software that's compatible with Mac, and Windows computers.
Optimized for MakerBot PLA Filament
Safe for the classroom, office, or home, this filament is non-toxic and easy-to-print with minimal warping or curling. It's also the best, most consistent filament for the MakerBot Replicator Mini+
Print Technology
FDM(Fused Deposition Modeling)
Build Volume
10.1 L X 12.6 W X 12.6 H CM[4 L X 5 W X 5 H IN]1,603 Cubic Centimeters[98 Cubic Inches]
Layer Resolution
100 microns [0.0039 in]
Material Diameter
1.75 mm [0.069 in]
Material Compatibility
PLA Filament – Small Spool

Additional materials such as bronzefill, copperfill, and woodfill 

Extruder Compatibility
Smart Extruder+
Experimental Extruder
Nozzle Diameter
0.4 MM [0.015 IN]
Print File Type
.MAKERBOT
Ambient Operating Temperature
15­-26°C [60­-78°F]
Storage Temperature
0­-38°C [32-­100°F]
Build Surface
Grip Surface
Stepper Motors
1.8° step angle with 1/16 micro-stepping
XY Positioning Precision
11 Microns [0.0004 IN]
Z Positioning Precision
2.5 Microns [0.0001 IN]
Software Bundle
MakerBot Print,
MakerBot Mobile
Supported File Types
STL, OBJ
Operating Systems
Windows (7, 10)
Mac OS X (10.9+)
Power Requirements
100-­240 V; 0.76-0.43 A
50-60 HZ
Connectivity
WI-FI, USB
Construction
PC ABS with Powder-Coated Steel Reinforcement