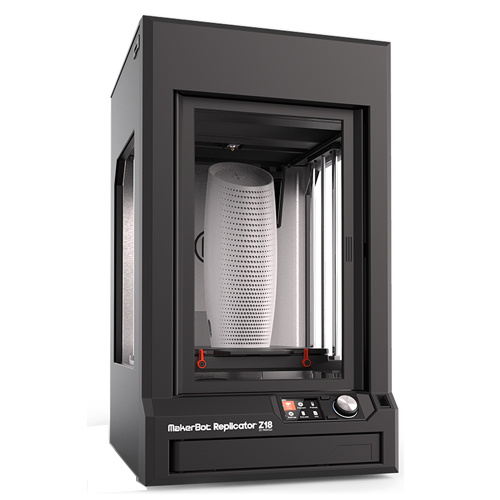 MakerBot Replicator Z18
With the MakerBot Replicator Z18 you can print high-resolution, industrial-quality prototypes bigger than ever.The MakerBot Replicator Z18 makes solid, three-dimensional objects out of melted filament.First, use MakerBot Desktop to translate 3D design files into instructions for the MakerBot Replicator Z18.
Then transfer those instructions to the MakerBot Replicator Z18 via USB drive, USB cable, ethernet, or Wi-Fi.The MakerBot Replicator Z18 will melt filament and squeeze it out onto the build plate in thin lines to build your object layer by layer.
MakerBot® Desktop is a free app for preparing 3D print sand managing your 3D content. Whether you print directly to the MakerBot Replicator Z18 3D Printer via USB cable, Wi-Fi or Ethernet, or you export your print files to a USB drive, MakerBot Desktop is where all your prints will begin.
Massive Build Volume
Massive build volume meets speed and reliability for professional innovators.Make extra-large and ultra-tall industrial concept models and prototypes. Think and build bigger than ever.
Includes the MakerBot Smart Extruder+
Double the warranty of its predecessor, the Smart Extruder+ is a culmination of product design and 160,000+ hours of rigorous testing that delivers dependable, consistent performance with superior results using MakerBot PLA Material.
Iterate at a Fraction of the Cost of Industrial 3D Printers
With the massive build volume of the Z18, you can print prototypes and parts at a vastly lower cost than industrial 3D printers.
Flexible connectivity
Send print files to your 3D printer via Wi-Fi, USB, Ethernet, or with a USB drive. Control your printer via MakerBot Print or remotely with MakerBot Mobile.
Full featured software
Store, organize, and access 3D design files in your personal cloud-enabled library on MakerBot Print. MakerBot's free downloadable software is compatible with Mac or Windows computers.
Optimized for PLA Material
Safe for the office or classroom, this material is non-toxic and easy-to-print with minimal warping or curling. It's also optimized to give you the best results and highest quality for the MakerBot Replicator Z18 Printer.
Designed for your most durable 3D printed prototypes and fixtures. Print with confidence. Print Tough.
Print Technology
FDM (Fused Deposition Modeling)
Build Volume
30.0 L x 30.5 W x 45.7 H CM [11.8 L x 12.0 W x 18.0 H IN]

2,549 cubic inches

Layer Resolution
100 microns
Material Diameter
1.75 mm [0.069 IN]
Material Compatibility
PLA Material – Large Spool
Tough Material – Large Spool
Additional materials such as bronzefill, copperfill, and woodfill
Extruder Compatibility
Smart Extruder+
Tough Smart Extruder+
Experimental Extruder
Nozzle Diameter
0.4 MM [0.015 IN]
Print File Type
.MAKERBOT
Ambient Operating Temperature
15­-24°C [60-­75.2°F]
Storage Temperature
0-­38°C [32­-100°F]
Build Surface
Injection molded PC­ ABS
Stepper Motors
1.8° step angle with 1/16 micro-stepping
XY Positioning Precision
11 Microns [0.0004 IN]
Z Positioning Precision
2.5 Microns [0.0001 IN]
Software Bundle
MakerBot Print Software
Supported File Types
STL, OBJ
Operating Systems
Windows (7, 10)
Mac OS X (10.9+)
Power Requirements
100­-240 V; 5.4-­2.2 A;
50/60 HZ; 350 W
Connectivity
USB, Ethernet, Wi­fi
Construction
Powder-Coated steel
with PC-ABS and Aluminum Composite Material