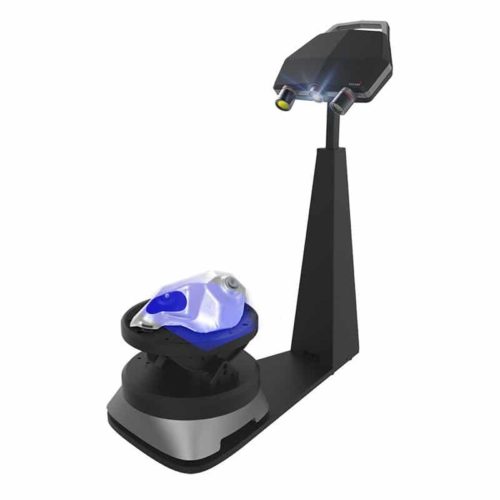 Solutionix C500
Solutionix's industrial scanners provide excellent data quality at a high resolution. In addition, the product's high level of user-friendliness makes the scanner even more attractive.
Solutionix scanners provide highly accurate and detailed 3D measurement data using Blue LED scanning technology and high-resolution twin-cameras for a fast and easy-to-use metrology experience. This scanner is optimized for scanning small- to medium-sized objects. With dual 5.0MP cameras, the C500 provides excellent data quality at a high resolution, making it the most user-friendly 3D scanner on the market.
3D scanning does not always take much work. With a single mouse click, users can get their whole object scanning done very easily and quickly. Another click to actively synchronize the model and camera views, enabling users to recognize any scanning position and to add more scan where it may be needed.
Once the calibration panel is installed, clicking the calibration wizard will guide you through an automated calibration process. The whole calibration process may have been essential, but was difficult for users to follow. Now you will experience a genuinely user-friendly system and a fully automated procedure leading to extreme convenience.
The C500 industrial 3D scanner is capable of performing scanning tasks easily and rapidly. Solutionix's 3-axis turntable (TA300+) can effectively capture areas beyond the pre-existing limits. The TA300+ is optimized for automatic scanning of small- and medium-sized objects and can hold up to 10kg. With the TA300+, it is possible to work in cramped conditions without much difficulty.
5.0 MP cameras, Blue LED
Measuring area 90 / 175 / 350 mm
Point spacing 0.028 / 0.056 / 0.11 mm
Interface USB 3.0 B type
Accessories 3-Axis turntable (2 Rotation / 1 Swing)
Includes user-friendly ezScan 2017 software