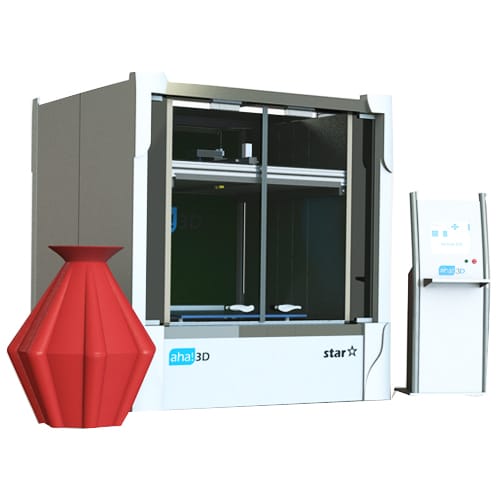 The Aha Star
Presenting the Aha star! A family of large Industrial 3D printers. Named after the symbol ★ for "everything" in computing, this is the final answer to what a 3D printer should be. Tailor made to tick every point in your wishlist for the ultimate FFF machine, it is the gist of the experience of Aha3D, India's oldest and deeply seasoned 3D printer design house. It is the 3D printer we have been working to offer you. And today we do it with pride and joy to create Aha moments for you!
Future-proof
Modular design, fully customizable and upgradeable. Free remote software upgrades for life.
Precise
Options to go down to 4 microns positional accuracy.
Reliable
Proven 24x7x365 operations in industry setup.
Flexible
Accepts multiple materials. Fully customizable and upgradeable at any time. No hard installation. No special requirements..
Post-sales
Developed and manufactured in India, backed by experienced staff to ensure zero downtime.
Fast
Get upto 10 times faster rate of production than other 3D printers of similar segment. Customized options available to go even higher.
Aha Star Features
Configurable build volume
The star is made-to-order to your precise build volume requirements, and can be as small as 500 x 500 x 500 cubic mm, to as large as 2.25 x 2.25 x 2.25 cubic meters, and everything in between!
This means that, depending on your application, you can order the right star for general prototyping jobs (a perfect cube), foundry patterns and moulds generation (square cuboid where large height isn't required), automobile parts (more wide than tall, to accommodate parts like bumpers and dashboards), aerospace components (more tall than wide to produce tubular structures and blades), medical prosthetics applications (more tall than wide) and everything else, including your business.
Interchangeable tool heads
The tool head is what brings the core "making" functionality to the Aha Star. It specifies what materials can be used for the job, the speed of material deposition, the number of materials that can be used simultaneously, and how can the machine can recover from material flow errors when they happen
For more details, read on:
The basic toolhead
The basic toolhead is the entry-level option, to get you started with the Aha Star. It features air-cooled radiation, and offers a material deposition rate of 15 cc per hour. You can use plastics upto a melting point of 300 degrees C.
The  standard toolhead
The standard toolhead unlocks the power of the Aha Star, and features a high-flow rate material output option of a respectable 150 cc per hour. It features nozzles with a working temperature of upto 500 degrees C, so basically you can use all the imaginable thermoplastics with the Standard toolhead.
Customized toolhead
A customized toolhead depending on your requirements can be developed and used with the Aha Star! Sky is the limit, literally. Think speed, colours, materials, composites, clay, plastic pellets, cement, chocolate, or any application that you have in mind!
Temperature controlled bed and build chamber
High-performance engineering plastics like ABS, PC and Ultem are challenging to process because they undergo deformations like warpage, shrinkage and delamination while 3D printing.
To achieve great results with such materials, the Aha Star offers you a temperature controlled bed and build chamber. This enables maintaining the perfect environment for the material being printed, both during and after printing, ensuring accurate and strong prints even with the most challenging of the materials.
Choice of servo drive systems
The drive system moves the tool head as per design to be created. Conventional 3D printers use "stepper" drive system, which makes the tool head move accurately, but can't notice the motion that is actually happening. It blindly executes the commands coming from the design program, heedless of real-world motion errors.
Technology
FFF
Build volume
500×500×500 mm cube to 2.25×2.25×2.25 meter cube,
each dimension user-selectable from 500,750,1000,1500,2250 mm
Filament diameter
3 mm (standard)
Number of extruders
Basic toolhead:2
Standard toolhead:2
Customized toolhead: 3 or more(as per users requirement)
Layer Height
100 to 500 microns (standard)
Rate of Production
Basic toolhead:upto 15cc per hour
Standard toolhead:upto 150 cc per hour
Maximum Extrusion temperature
Basic toolhead:300ºC
Standard toolhead:500ºC
Toolhead cooling
Basic toolhead: air cooled
Standard toolhead: liquid cooled
Build platform
Temperature contolled upto 150°C
Build chamber
Temperature contolled upto 100°C
Highlights
Large build volume+Aha Sense OS
Known for
Latest technology, industrial reliability, budget friendly.
AHA SENSE OS
Machine performance parameters
Status and counters for useful machine and job parameters.
Machine self monitoring
Machine performs preventive maintenance based on sensor inputs and software logic.
Automatic error handling
Automatic handling of filament errors, motion errors power cuts, manual and automatic print interruptions.
Software upgrades
Functionality enhancements via regular software upgrades, free for life.
ELECTRICAL
Power requirement
220 V AC, single or three phase (based on specifications)
Power consumption
For 5 KW to 25 KW (based on specifications)
Special operational requirements
None.