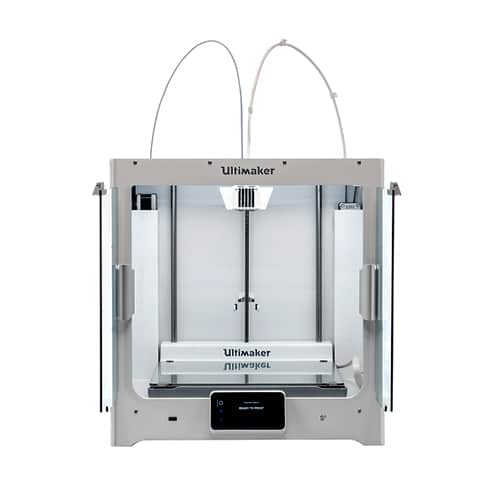 Ultimaker S5
Ultimaker unveiled the new Ultimaker S5 3D printer, a bigger and better version of the beloved Ultimaker 3. The new S5 is equipped with a 330 x 240 x 300 mm build volume, dual extrusion and an improved feeder system with a filament flow sensor. Ultimaker expands 3D printing capabilities with New Tough PLA and Mobile App.
With its bigger build volume, the Ultimaker S5 is designed for a reliable 3D printing experience at scale. For large, technical prints, Tough PLA material offers toughness similar to ABS with the simplicity of PLA.
The Ultimaker comes up with FDM technology. The great advantage of FDM is the durable materials it uses, the stability of their mechanical properties over time, and the quality of the parts. The production-grade thermoplastic materials used in FDM are suitable for detailed functional prototypes.
The Ultimaker S5 is the largest Ultimaker with a build volume of 330 x 240 x 300mm, this 3D printer offers more possibilities than the Ultimaker 3. This model is also the first Ultimaker provided with a 4.7 inch LCD touch screen operation that comes in 11 supported display languages.
The Ultimaker S5 will utilize two interchangeable build plates; a glass bed for general use and an ultra-flat anodized aluminum bed for advanced engineering materials, such as ABS and PC.
Ultimaker expands 3D printing capabilities with New Tough PLA and Mobile App. New Ultimaker Tough PLA filament is less brittle than regular PLA, and is optimized for 3D printing larger models without warping. Tough PLA also provides a more matte surface finish quality, and has a similar impact strength to Ultimaker ABS, though the stiffness is higher. The new Ultimaker app allows users to get updates on print progress from phones or tablets, notifying you when a print job is complete or a 3D printer requires maintenance.
Technology
FDM
Build Volume
330 x 240 x 300 mm (13 x 9.5 x 11.8 inches)
Layer Resolution
Up to 20 microns for 0.4 mm nozzle
Print Temperature
Up to 280 ˚C
Extruders
Dual Extrusion with Soluble Support Material
Printer Size
495 x 457 x 520 mm
Nozzle Diameter
0.25 mm
0.4 mm
0.6 mm
0.8 mm
Nozzle Temperature
180 °C to 280 °C
Build Plate
20 to 140 °C heated glass build plate with active leveling
Connectivity
Wi-Fi, LAN, or USB port