Selective Laser Sintering (SLS) Technology Overview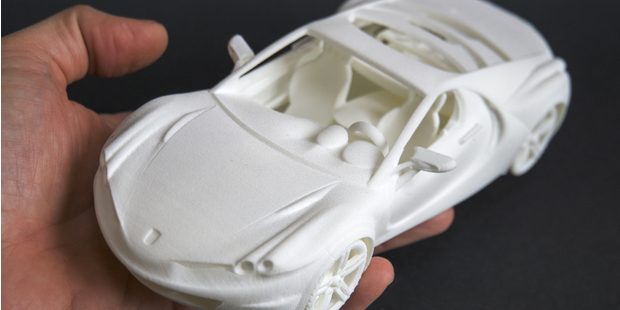 Selective Laser sintering 3D Printing Technology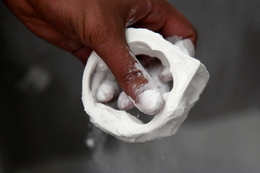 The process was developed and patented by Cral Deckard, an undergraduate student at university of texas and his mechanical engineer professor, Joe Beaman in the 1980s.
This process also uses high powered lasers which are potentially dangerous for office or private usage. This process is extremely beneficial for industries that require production of proto-types in a small quantity having high quality and intricate structures.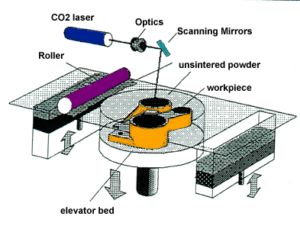 The part to be made is modelled and sliced into layers and exported to stl format in softwares to prepare it for the build process.
In Selective Laser sintering (SLS) process, a computer controlled laser beam is pulsed down on a platform, that traces the cross section of objects into small particles of plastic, ceramic or glass. The laser heats the powder either below its boiling point or above the melting point so that the powder fuses together to form a solid structure. This process continues till the entire model is finished. This makes it a largely accepted process for creating proto-types as well as final products.
PA Nylon 12 - General purpose, rugged material

Nylon 12 GF - glass filled

Nylon 12 GF - aluminium filled

Nylon 12 HST - glass-fiber filled high strength

Typically used for applications that need strength and high accuracy. Used for functional prototyping and product fitment. Typical industries using FDM:
Manufacturing including automotive, dies and molds, aerospace etc
Complex art forms
Architecture
Health care
Concept models for retail and advertising
Education Models
| | |
| --- | --- |
| Surface Finish | |
| Layer Resolution | |
| Post Processing | |
| Speed | |
| Output Strength | |
| Output Colour | |
| Maximum part size | |
| File types required | |
| | |
| --- | --- |
| Minimum Wall thickness | |
| Minimum hole diameter | |
| Minimum emboss text size | |
| File types required | |
| Minimum Detail size | |
Related Page Links

3D Printing Case Studies
3D Printing Applications
3D Printing in Industry
3D Printing Materials
3D Printing Technologies