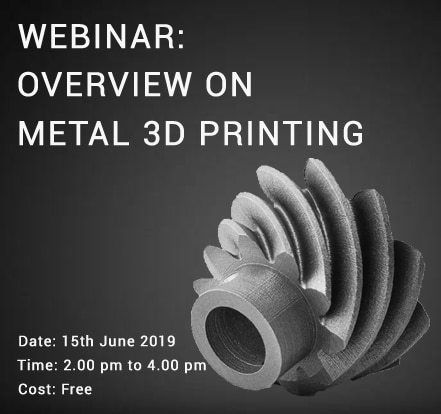 [WEBINAR]
OVERVIEW ON 3D METAL PRINTING
Metal 3D Printing holds a unique position in modern-day product development for the direct manufacturing of complex parts. In this webinar, we shall give a brief overview of Metal 3D Printing technologies that are available in the market & in-depth overview of DMLS technology available with us.
Date: 15th June 2019
Cost: Free
[WEBINAR]
3D SCANNING & IT'S APPLICATIONS
3D Scanning is becoming as important as, if not more important than 3D Printing for the immense applications it has in manufacturing industry for reverse engineering, dimension inspection & QC. In this webinar, we shall showcase various 3D Scanners we have, when to use which one and how to work on the captured data.
Date: 25 May 2019 2:00 PM – 4:00 PM
Cost: INR 500/Person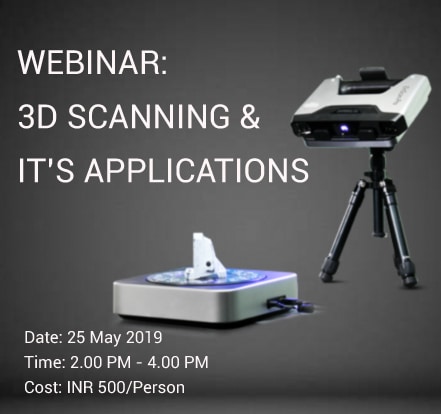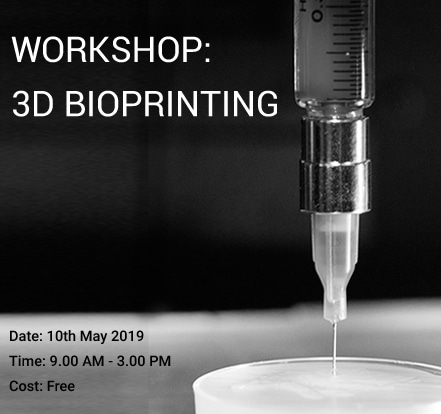 [WORKSHOP]
3D BIOPRINTING
AMTZ (AP MedTech Zone), India's first dedicated medical device manufacturing park & think3D are jointly conducting a full day workshop on 3D BioPrinting on 10th May 2019. Reputed faculty from University of Sydney, University Of Wollongong, Australia & AMTZ shall give a brief overview on various topics like Medical equipment, 3D Printing of medical implants and Bioprinting in ENT etc.
Date: 10 May 2019
Cost: Free
[WEBINAR]
OVERVIEW ON 3D PRINTING
Additive Manufacturing (3D Printing) is becoming more of a common place technology working in tandem with various traditional methods of manufacturing. Attend our free webinar to learn more about various 3D Printing technologies and how they help in rapid prototyping
Date: 04 May 2019 2:00 PM – 4:00 PM
Cost: FREE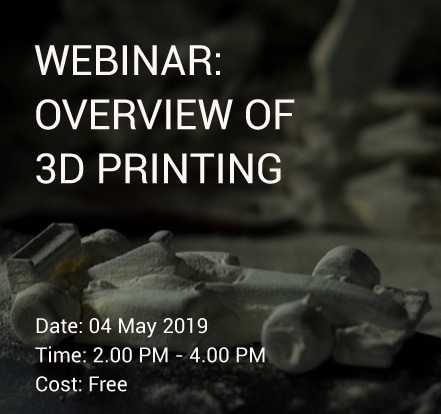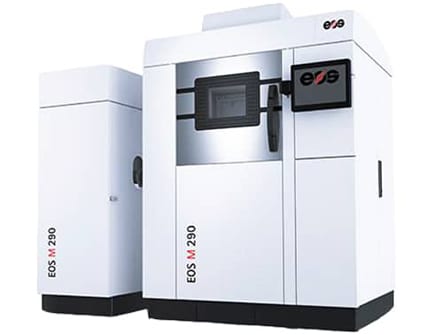 3D printing is currently the most trending topic in the tech world. Many experts claim that 3D printing is a transformational technology, a transformation much bigger than that of the internet. Harvard Business Review has even mentioned that 3D printing is going to change the world. If you want to have workshops associated with schools or colleges, we will provide you.
FREQUENTLY ASKED QUESTIONS
What machines do you use to create 3D objects?
We have several types of machines in our workshop:
FORMIGA M290
FORMIGA P110
HP 4200
FDM, CJP, PJP, MJP, MJF, SLS, DMLS 3D Printers and many more...We are one stop shop for all your 3D Printing needs, please check www.think3d.in for more info.
The action or process of making a physical object from a three-dimensional digital model, typically by laying down many thin layers of a material in succession.
Can I use 3D Printing in education?
Yes, 3D printing is already being introduced to students at an early age.
3D printing enables the physical manifestation of someone's thoughts and ideas. The hands-on experience makes a technical subject fun and attractive, even for people who aren't especially interested (yet) in design, architecture, computer science or engineering and many other fields of study.
What are the most common 3D Printing file formats?
There are quite a few 3D printing file formats. Here are the most common ones.
STL: This is the most popular 3D model format, all slicing tools support it.
OBJ: Also important – and also supported by all major slicing tools – is the OBJ file format. In contrast to STL, OBJ is able to store colour and texture profiles; we guess it will become more popular when multicolour printing takes off.
PLY: PLY, the Polygon file format, was originally used for storing 3D scanned objects.
3MF: 3MF is a new file format developed by Microsoft, Autodesk, HP and Shape ways. It is not clear if this will be widely adopted – we'll have to wait and see.
What are the differences between 3D Printing and CNC Milling?
The major difference between 3D printing and CNC milling is the starting point: With 3D printing, the manufacturing process starts from nothing, objects are built by adding material layer by layer. In CNC milling, the process starts with a block of material and is finished by removing material until the desired shape has been formed.
Can I customize the products available on your website before ordering?
Yes, we help you customize with unlimited options. Drop us an email with your requirement and we will do what works the best for you!