INDIA'S LARGEST INTEGRATED
RAPID PROTOTYPING FACILITY
think3D has set up India's largest integrated 3D Printing facility in Visakhapatnam in partnership with Govt. of India on PPP mode. This facility has been set up at India's first dedicated medical device manufacturing zone named AP MedTech Zone (AMTZ) located in the industrial city of Visakhapatnam, AP. This facility has been launched under "MAKE IN INDIA" initiative to facilitate innovation in India
Services Offered
Feel free to contact us if you wish to avail our services.
HARDWARE SALES
High quality desktop 3D Printers, 3D Scanners & Filaments at affordable prices.
3D SCANNING
State of art 3D Scan facility for RE, Dimension Inspection & Digitisation
3D DESIGNING
Strong expertise in organic & inorganic modelling, 3D Rendering & miniature design
SCALE MODELS
Handcrafted, highly realistic & dynamic miniature models of complex objects
3D FIGURINES
Specialists in creation of custom human miniatures in full color
MEDICAL 3D PRINTING
High quality custom implants, surgical models & surgical guides
CNC MACHINING
High quality industrial  machining services in 3-axis & 5-axis CNC Milling, Turning
VACUUM CASTING
VC services in wide range of  materials with high quality PJP master
INJECTION MOLDING
200 ton injection molding machine for various polymers & engineering materials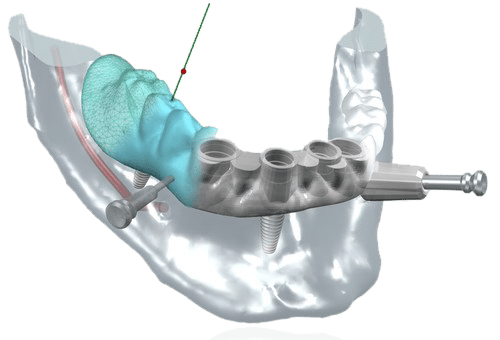 The accurate placement of the implant is critical for achieving the results and as well as the exact alignment. SURGICAL GUIDE plays an  important role in pre-surgical planning which then becomes simpler. The computed tomography (CT) imaging and CT-derived surgical templates are clinically significant improvements in accuracy, time efficiency, and reduction in surgical error, benefiting the patient, surgeon, restorative dentist, and the laboratory.