[metaslider id=16266]
think3D offers architectural and industrial model making services in Chandigarh. Whether you are an architect or a creative designer, a manufacturer or research scientist, we can create the models precisely according to your specifications and scale. We spend time in understanding the end use to deliver accurate designs since each project/ application is unique . Contact us by dropping an email to info@think3d.in for the most competitive prices in Chandigarh. We pride ourselves in being the most customer oriented 3D miniature modeling service provider, with timely and accurate communication.
Our Services for Chandigarh include:
> n scale architectural buildings and monument models
> Miniature models of equipment and machinery for training, display
> Working models and industrial layouts with interactive controls
> GIS topography and Irrigation models
> Mementos and Concept models
> Virtual 3D designed models from references
Our Speciality
> Sophisticated models with interactivity, based on the requirement
> Clear communication and timely approach
> High standard materials and quality focus
> Blend of technology and art
Scale Model Inputs
Depending on the project and requirement we choose a blend of inputs listed below.

| | |
| --- | --- |
| Materials | Plastic, Nylon, Acrylic, Metal, wood etc |
| Technologies | 3D Design, Laser Cutting, CNC Routing, 3D Printing, Arduino Programming, |
| Components | Motors, PCB Boards, Belt Drives, Capacitive Screens, Mechanical Components |
| Model Props/ landscaping | Lighting, pavements, terrain, greenery, miniature vehicles and people, |
| Inputs taken | photo references, CAD models, architectural drafts, concept sketches |
Customers Speak
think3D supplied couple of machines to us, one of which is a 3D printer. think3D team is reliable, was with us till the satisfactory delivery was made and minor post-delivery glitches were addressed. Highly dependable and trustworthy!
–  Dr. Srinivas Prakash Regalla, Professor, BITS Pilani
About think3D
think3D is India's largest 3D printing platform launched with the mission "3D Printing For All". At think3D, we offer 3D Printers, 3D Printing Services, 3D Scanning Services, 3d miniature scale models, Design Store and also provide latest news on 3D printing technology. Over the last 1 year, think3D served various reputed clients like GE, Microsoft, Polycom, HCL, Wipro, Himalaya Wellness, IITs, BITS Pilani and so on.
About Chandigarh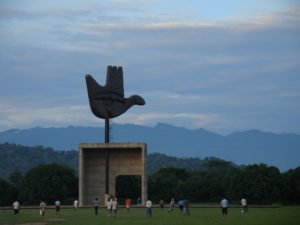 Chandigarh is a city and a union territory in the northern part of India that serves as the capital of the states of Punjab and Haryana. As a union territory, the city is ruled directly by the Union Government of India and is not part of either state. The city tops the list of Indian States and Union Territories by per capita income in the country. The city was reported to be the cleanest in India in 2010, based on a national government study, and the territory also headed the list of Indian states and territories according to Human Development Index. The metropolitan of Chandigarh-Mohali-Panchkula collectively forms a Tri-city, with a combined population of over 2 million. Chandigarh is the first smoke-free city in India.
Source: Wikipedia