[metaslider id=16266]
think3D offers architectural and industrial model making services Delhi NCR. Whether you are an architect or a creative designer, a manufacturer or research scientist, we can create the models precisely according to your specifications and scale. We spend time in understanding the end use to deliver accurate designs since each project/ application is unique . Contact us by dropping an email to info@think3d.in for the most competitive prices in Delhi. We pride ourselves in being the most customer oriented 3D miniature modeling service provider, with timely and accurate communication.
Our Services for Delhi include:
> n scale architectural buildings and monument models
> Miniature models of equipment and machinery for training, display
> Working models and industrial layouts with interactive controls
> GIS topography and Irrigation models
> Mementos and Concept models
> Virtual 3D designed models from references
Our Speciality
> Sophisticated models with interactivity, based on the requirement
> Clear communication and timely approach
> High standard materials and quality focus
> Blend of technology and art
Scale Model Inputs
Depending on the project and requirement we choose a blend of inputs listed below.

| | |
| --- | --- |
| Materials | Plastic, Nylon, Acrylic, Metal, wood etc |
| Technologies | 3D Design, Laser Cutting, CNC Routing, 3D Printing, Arduino Programming, |
| Components | Motors, PCB Boards, Belt Drives, Capacitive Screens, Mechanical Components |
| Model Props/ landscaping | Lighting, pavements, terrain, greenery, miniature vehicles and people, |
| Inputs taken | photo references, CAD models, architectural drafts, concept sketches |
About Delhi
Delhi is the main administrative and political center of India. Being one of the major industrial hubs of the country, Delhi houses many industries in se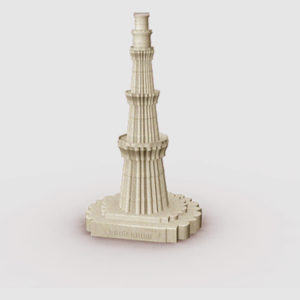 ctors like electronics, jewelry, leather, metals, heavy machinery and pharmaceutical sectors. Think3D is rightly poised to serve the needs of different industries of Delhi, for rapid prototyping, 3D printing, 3D designing, 3D scanning, proof of concept needs  and customized gifting.
Our Delhi Address
think3D Delhi
c/o 91SpringBoard
E-43/1, Okhla Phase II,
New Delhi, Delhi. PIN: 110020
India.
Ph: 011-39585958
Google Maps
Our Clients From New Delhi
| | |
| --- | --- |
| Graphic Era Univeristy | Rosmerta |
| ITM Univeristy | BITS |
| Autopal | Phoneonix Robotics |
| Reetu Marbles | IIT BHU |
| IIT Khargapur | |