For every hi-tech innovative idea to go mainstream into market it requires cumulative effort of hundreds of entrepreneurs trying out different ways to bring that idea to the public. 3D Hubs is one such idea to bring the 3D printing revolution to mainstream market. 3DHubs is a network of all 3D printing service providers across the globe. Anyone with a 3D printer can list their services on 3D Hubs. Customers can search for the 3D printing service providers in their area and contact those companies via 3D Hubs. In summary, 3DHubs is a portal to find a local 3D printing service provider.
3D Hubs was founded in August 2013 in Netherlands and has reached more than 5000 3D hub locations across the world in just 9 months, a number founders consider to be critical mass in an ever changing market. 3D Hubs is now considered world's largest 3D printer network with presence in 80 countries and access to more than 750 million people globally within 10 miles from their home.

By enabling local production, 3D Hubs and its community of makers are disrupting the entire manufacturing supply chain shifting it away from "Made in China, Consumed across the world" to "Made Locally, Consumed Locally" model.
Below are some statistics provided by 3DHubs on crossing 5000 print hubs globally. For more information, visit their blog post by clicking here.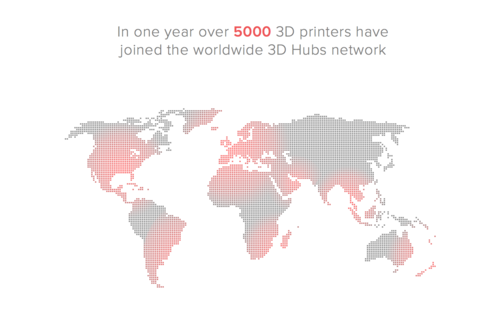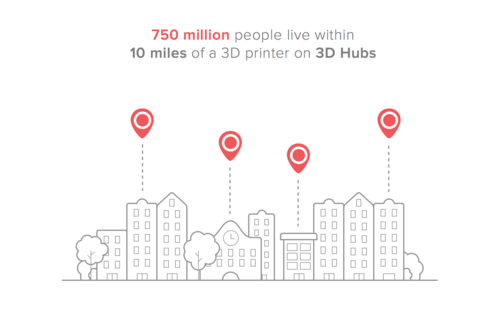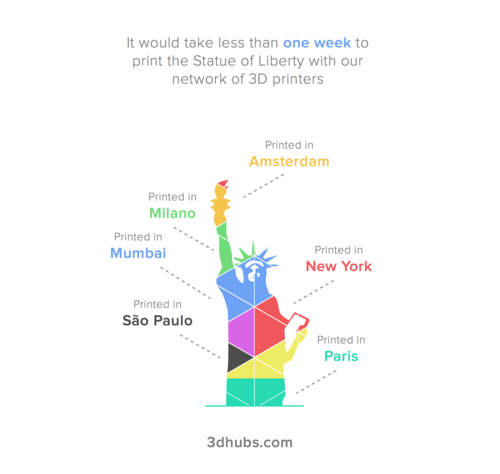 Top 10 most active communities on 3D Hubs?
Milan
New York
Amsterdam
Los Angeles
Antwerp
Den Haag
London
Eindhoven
Utrecht
Paris
From the above statistics, one can find that 3D Hubs community is very active. And with companies like 3D Hubs that act on the fringes of 3D printing yet provide great value to customers and suppliers, it is just a matter of time for 3D printing to become ubiquitous.
Images Source: http://blog.3dhubs.com