Now, a new exciting feature has got added to 3D printing – Colour Mixing. Till now, we have seen 3D printers with single extruders giving output with single material and single colour. We have also seen advanced printers with multiple extruders supporting mult-material or multi-colour outputs. But, mixing of colours to achieve new shades or gradients is a cool new feature.
Dutch 3D printer manufacturer, Builder has just introduced this colour mixing feature to its Builder and Big Builder line of single-extruder dual-filament FFF 3D printers. These Dual-Feed machines will be able to extrude 2 colors at the same time creating prints in mixed colors, with some great new effects. The mixed color is created by changing the percentage of colors in G-code from extruding 100% of each color to, for example, 40% red and 60% yellow. This process creates the color mixing effect.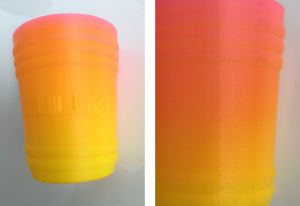 All you need to do is to upload your G-code on "color mixing" generator page and then select the colour mix ratio's from the two extruders with a simple slider scale.. The online code generator will then add extra commands into your existing G-codes. The new commands transform a normal G-code into a color mixing G-code. Then you can download the G-code for printing your own color mixed object.
When purchasing a small or Big Builder with Dual-Feed extruder, customers will receive a password by email which allows them to use the "color mixing" generator.
Imagesource : 3dprinter4u.com