Ever heard about United Sciences? It is a global innovator and manufacturer of precision three dimensional hole scanning and imaging solutions. This company's  scanning technology is changing the way industries have operated and collected data in five key areas:
Aerospace & Precision Manufacturing – non-contact measurement, diagnostics and analytics of holes created as part of the aerospace, auto and other industrial precision manufacturing and assembly process
Music & Entertainment – customized and personalized in-ear recreational audio products (earbuds and headphones)
Military & Industrial Protection – customized hearing protection devices and earplugs for military personnel and employers who need to be in compliance with regulations or value the health and wellbeing of their employees
Health & Wellness – imaging ear cavity in real-time replacing traditional silicone ear-mold impressions to create custom-fit earn-worn devices in the ear capable of providing activity tracking and biometric sensing data
Laboratories & Education – hole scanning equipment designed to meet needs of universities and research institutions to proliferate innovation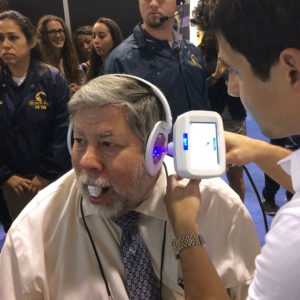 (Above) Steve Wozniak (Apple co-founder) getting eFit-scanned for a new set of Aware IEMs at NAMM 2015.
Capable of perfectly capturing the unique structure of each and every inner ear, this eFit 3D ear scanner promised a way to produce perfect earbuds through 3D printing. Fast forward more than a year, and United Sciences is finally ready to bring that revolutionary solution to the people. Called the Aware, these earbuds not only provide a perfect fit and sound, but they are also packed with biometric sensors to carefully monitor brain and body functions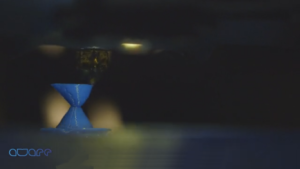 The Aware is a custom-fit Bluetooth headphone with embedded biometric sensors that reliably measure data such as brainwaves (alpha, beta, and delta), heart rate, steps, distance traveled, and calories burned, among other information, all accessible through your phone. The Aware hearable can track brain waves through EEG and provide real-time feedback about focus, stress, sleep patterns, and relaxation. This enhanced awareness may help users increase focus, lower stress levels, understand their sleep patterns, and help guide them to be more mindful.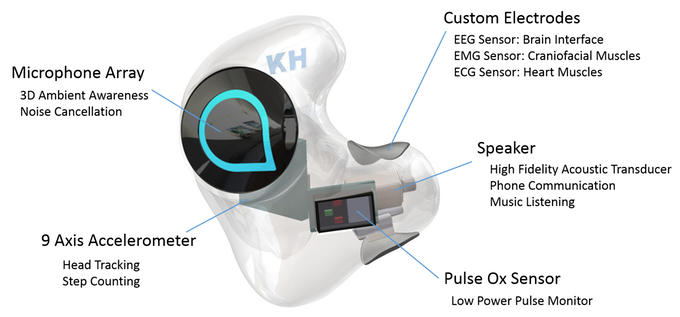 Hardware  
Audio SoC with Bluetooth 4.1
4 channel high resolution biopotential analog front end
16 GB internal storage for biosignal logging and music
3.7V 220 mAh lithium polymer battery
Glossy black 3D-printed (UV DLP) acrylic
Wired auxiliary audio support
Sensors & Transducers
9-axis IMU: an accelerometer, gyroscope, and compass with integrated digital motion processor
6 low impedance biopotential electrodes
Red/infrared/green high sensitivity pulse ox sensor
Multiple ambient digital microphones
In-ear bone conduction digital microphone
Wideband high fidelity acoustic transducer