We, at think3D are very happy to announce the inauguration of our new office in Visakhapatnam to provide 3D printer sales & service in Visakhapatnam and Northern Andhra region. This office is manned by our expert 3D printer sales & service personnel. If you are looking to purchase a 3D printer, you can call us at 0891-2707830 or can visit our facility at MVP Colony, Visakhapatnam.
Our Address
think3D Visakhapatnam
c/o SG Automobiles, Ground floor
1-56-15 (HIG-67), Sector-1,
MVP Colony, Vishakapatnam
Andhra Pradesh, India.
PIN Code: 530017
Ph: 0891-2707830
On Google Maps
Our Clients
| | | | |
| --- | --- | --- | --- |
| Microsoft | SAP | Polycom | WIPRO |
| BITS Pilani | IIT BHU | IISC | IIT Kharagpur |
| ITM University | Graphic Era | Vimal Jyothi | Acharya Nagarjuna |
| HCL | SRM University | DRDO | Indian Air Force |
| BHEL | General Electric | Whirlpool | MESCO Steel |
| Autopal | Merritronix | Raychem RPG | Trelleborg |
| Himalaya | Sunshine Hospitals | Brun Health | Chassis Brakes |
Customers Speak
think3D supplied couple of machines to us, one of which is a 3D printer. Think3D team is reliable, was with us till the satisfactory delivery was made and minor post-delivery glitches were addressed. Highly dependable and trustworthy! –  Dr. Srinivas Prakash Regalla, Asst. Professor, Mechanical, BITS Pilani.
About think3D
think3D is India's largest 3D printing platform launched with the mission "3D Printing For All". At think3D, we offer 3D Printers, 3D Printing Services, 3D Scanning Services, Design Store and also provide latest news on 3D printing technology. Over the last 1 year, think3D served various reputed clients like GE, Microsoft, Polycom, HCL, Wipro, Himalaya Wellness, IITs, BITS Pilani and so on.
About Visakhapatnam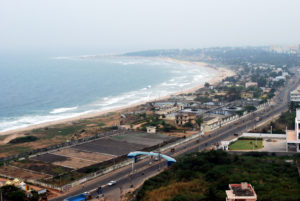 Visakhapatnam (nicknamed Vizag) is the largest city, both in terms of area and population in the Indian state of Andhra Pradesh. Visakhapatnam is located 363 kilometres (226 mi) north east of the proposed state capital of Amaravati and 587 kilometres (365 mi) of Hyderabad, the common capital of Andhra Pradesh and Telangana. It is the administrative headquarters of Visakhapatnam district and also the financial capital of Andhra Pradesh. As of 2011, the population of the city was recorded as 1,897,823, making it 15th largest city in India.
Visakhapatnam's economy ranks as the tenth-largest among Indian cities, with a GDP of $26 Billion (USD). Visakhapatnam is the principal commercial hub of the state, and contributes to its economy in many sectors such as heavy industries, tourism, industrial minerals, fishing, and information technology. Visakhapatnam Port is the fifth busiest port in India in terms of cargo handled. The city serves as the headquarters for Eastern Naval Command of the Indian Navy and is home to the oldest shipyard and the only natural harbour on the east coast of India.