3D Printing: The Next Industrial Revolution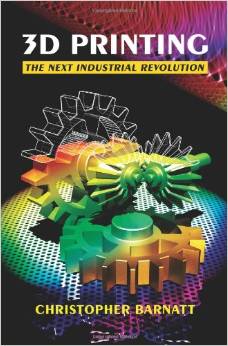 Author:  Christopher Barnatt
Amazon Review: 4.3 out of 5
Price: $13.49
ISBN No: 978-1484181768
Purchase: Click Here
 Excerpt: 
3D Printing is about to transform our lives. While traditional laser and inkjet printers only make marks on paper, 3D printers build up solid objects in a great many very thin layers. Already pioneers are 3D printing production tools, prototypes, jewelry, sunglasses, works of art, toys and vehicle parts. But this is just the beginning, with digital manufacturing destined to change how we create, transport and store a great many things.
Within a decade, some products may be downloaded from the Internet for printout in store or even at home. Already DIY enthusiasts are building their own 3D printers, while consumer models for the rest of us are just starting to arrive. Meanwhile doctors are learning how to 3D print kidneys and other replacement human organs.
3D Printing: The Next Industrial Revolution explores the practicalities and potential of 3D printing today, as well as trying to realistically foresee the impact of 3D printing on the world of tomorrow. The book is written for a wide audience, including 3D printing enthusiasts, entrepreneurs, designers, investors, students, and indeed anybody who wants to be more informed about the next round of radical technological change.
Particular features of the book include an extensive chapter that details every current 3D printing technology, as well as an industry overview covering 3D printer manufacturers, software providers, and bureau services. These chapters are then supported by an extensive 3D printing glossary (of over 100 terms) and a 3D printing directory.
Other key content includes a chapter on developments in digital manufacturing. This features interviews with a range of pioneering individuals and organizations who are already in the business of 3D printing final products or parts thereof. There are also chapters dedicated to 3D printing and sustainability, bioprinting, and personal fabrication.