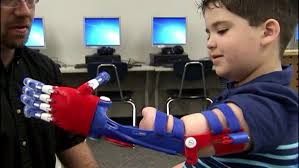 This kid from Michigan, Brayden Armstrong who is currently a Kindergartner was born without his left arm. Thanks to 3D printing and a generous local man now he has a brand new Captain America-inspired prosthetic arm.
Prosthetic limbs typically cost thousands of dollars, but Brayden Armstrong's new arm cost less than $50. Brayden's mom said a prosthetic arm can cost $16,000 or more and she is happy with the results.
"I am so thankful and so grateful for the generosity. It's an answered prayer, it really is," said Ashley Clayton, Brayden's mom.
She said she is thankful for Janel Caverly, Brayden's teacher at Bangor West Elementary. Caverly thought of the idea and scouted out Sosnowski. Andy Sosnowski, from Bay County, built the arm for the little boy for less than $50. She said she's happy to do this for such a great student."He catches onto things so quickly and I'm so thrilled and I can't wait to see what he can do with it," Caverly said.