We have witnessed 3D printing technology being embraced by the aircraft industry. This rapid prototyping technology has, so far, been used to make various integral aircraft components that maybe used for the direct operation of the aircraft. But for the first time SABIC (Abbreviation for Saudi Basic Industries Corporation) attempted to build something keeping in mind the need of the passengers including flight costs.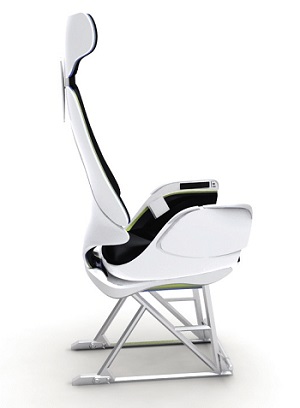 With revenues reaching more than $50 billion (2014), SABIC now ranks 2nd among the global chemical companies in the world and its primary focus has been producing various kinds of plastics.
The company recently showcased a 3D printed aircraft seat and also other 3D printed applications at the Aircraft Interiors Expo Hamburg, Germany. The company is dedicating their time on developing series of 3D printable thermoplastics and resins that meet all the regulatory needs to be used in the aircraft. FYI some of these thermoplastics will be well-suited for injection molding and thermoforming manufacturing.
The sleek & stylishly designed aircraft seat is made with the ULTEM 9085 resin and chances are that it might be perfect for 3D printing options. The ULTEM 9085 features toxicity compliant as well as low moisture absorption.
"Our customers have told us that they are interested in a total solution that goes beyond providing a material," Market Direct Kim Choate wrote at www.sabic.com, adding, "Historically, this has been our approach – to look at each customer's need, and bring our years of global experience – including solutions that have worked for other industries – to the table."
SABIC, apart from taking care of the needs of its customers, are equally focused at giving an aesthetic beauty to what they are creating.
To build an aircraft interior the manufacturers, designers and engineers have to follow strict regulations. But SABIC's materials is believed to be pretty apt for next-generation aircraft components. Some of the materials are CLEAR LEXAN XHR2000 sheets(when uncoated), the CLEAR LEXAN XHR2HC1 and LEXAN XHR2HC2 sheets, and few others.
SABIC's aircraft seat is surely promising enough to enjoy style alongwith comfort while traveling from New Delhi to Dubai, and the best part, as they have claimed, it might save from pocket pinching.