Brief overview
THREE STICKS is a board game that takes geometry to the next level. Players are challenged to think creatively and use only three types of sticks to create geometric shapes. In each turn, players add two sticks to the board and earn points for the shapes created. While trying to figure out geometric shapes, players begin to realize how shapes are interconnected and how easily a big, complex shape can be broken into small, simpler shapes.
The Challenge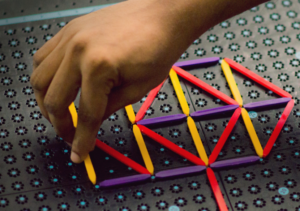 The game's beauty lies in pushing the players to think creatively and tryout multiple combinations. This means, the sticks and the pinning holes locking mechanism has to be accurate and restrict random moves.
Pramod, the brain behind this game, cannot take changes in this one aspect. Hence, he approached the think3D team for initial prototypes to test out all possible combinations and lock the game before going for mass production.
think3D team helped the creative game developer by creating crisp and accurate prototypes in SLS process using nylon material. All necessary clearances required for 3D printing were taken care of, in the design phase.
The freebies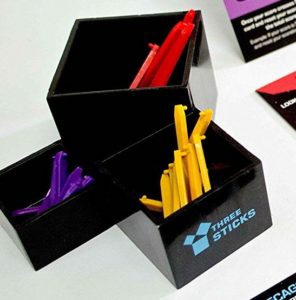 To make the game launch more interesting and viral, the three sticks team wanted to have a custom pen stand as a freebie, given to first set of customers. Though the idea is great, it will cost huge amount if they go for traditional process. Here again, think3D team came for support and designed attractive pen stands bearing the logo, and fabricated the special stands in small quantities using FDM 3D printing in thermo plastics. This ensured fast, economical, on demand fabrication or items as and when the orders flow in.
Result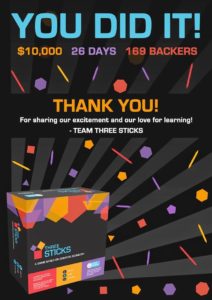 The game was first launched on indiegogo crowdfunding platform to great reviews and ended up crossing the funding goal kept by the team very quickly. The game went on to be one of the fast moving board games on ecommerce platforms like amazon. The team is very happy in coming out with a flawless product, and the with the provision of fine tuning the design at the prototype stage using 3D Printing. Needless to say, the 3D printed freebies given to first set of customers were instant hit.
You can visit kitki(dot)in for a range of board games the young team has developed.