3D Slicing is the essential step that bridges 3D designing and 3D Printing. Once your stl file is ready, 3D Slicing generates the G-code necessary to feed into your 3D printer. It also involves actions like scaling, rotating and placing the model on the print bed in addition to layer settings and material instructions. Lets us have a look at popular slicing softwares that are available in the market for 3D printing enthusiasts.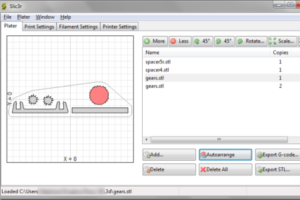 Slic3r is an open source slicer software, which evolved over the years with active contribution from the community. Several original new features that have become common thereafter such as multiple extruders, brim, micro-layering, bridge detection, command line slicing, variable layer heights, sequential printing (one object at time), honeycomb infill, mesh cutting, object splitting into parts, AMF support, avoid crossing perimeters, distinct extrusion widths, and much more, were first part of Slic3r, and then became part of commercial softwares. The latest version of the 3D printing software includes multiple views so users can better preview how their models will 3D print. Some of its many advantages are its easy setup and the compatibility with several Hosting programs. It supports multi-model printing, can split and save STL files and can also handle big STL files.
Formats: STL, obj
Price: Free
OS: Windows, Mac, Linux
Website: www(dot)slic3r(dot)org
KISSlicer is one of the best slicing softwares available for Slicing. It is a fast, easy-to-use, cross-platform program that takes 3D files (STL) and generates path information (g-code) for a 3D Printer.  On the positives, it offers adjustable printer speed, smart multi-head temperature control,  handling of overlapping meshes, adaptive sparse infill and adaptive support features.The free version has all the features needed for the 3D printing enthusiast who uses a single-head machine. With minimal settings and easy preview it's perfect for those getting started with 3D printing and is compatible with several hosting programs. Paid version has more features like multi-nozzle, multi model slicing.
Price: Free, commerical and educationsl
OS: Windows, Mac, Linux and Raspberry Pi
Website: www(dot)kisslicer(dot)com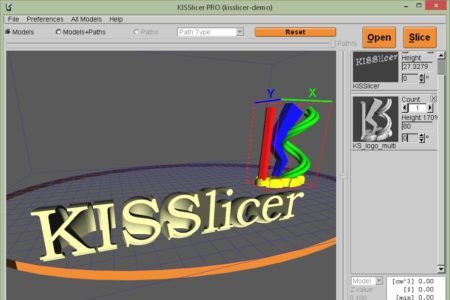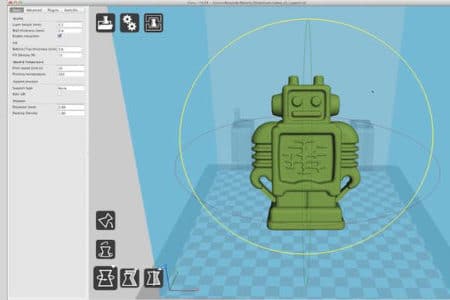 Cura is an opensource slicing software  currently maintained by Ultimaker, one of the top desktop 3D Printer company. It is very popular among both Uktimaker users and non users alike. Cura is one the best looking slicer of the lot, with neatly segregated user modes like basic/ advanced/ expert, which makes it appealing to both beginners and advanced users alike. Over the years, it has developed a lot in terms of UI, speed and capabilities. the software is compatible with most RepRap style 3D printers and particularly useful for printers that use the Bowden style of extruder, and dual-extruder printers. Cura has complaints from other  users on flexibility in features like the lack of custom supports and variable layer heights etc, compared to other open source softwares
Formats: STL, 3MF, and OBJ
Price: Free
OS: Windows, Mac, Linux
Website: www(dot)ultimaker(dot)com(slash)en(slash)products(slash)cura-software
Simplify3D is a paid 3D slicer software, ideally for expert and pro users, offering a professional interface and a number of versatile tools to help check, repair, and prepare your 3D model with optimal print settings. Among it USP features are fabrication process visualizer, numerous infill patterns, automatic and manual modes for supports to name a few. It supports nearly all available 3D printers – you can download and import over 100 3D printer profiles. If your model isn't on the list, it's relatively easy to add a profile on your own.  It can also be used as a 3D printer host, though does not offer a wireless option for this.
Formats: STL, OBJ or 3MF files
Price: $149 for a 2-computers license.
OS: Windows, Mac
Website: www(dot)simplify3d(dot)com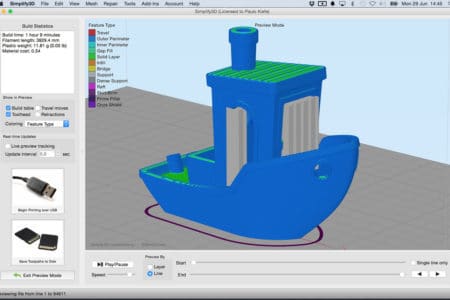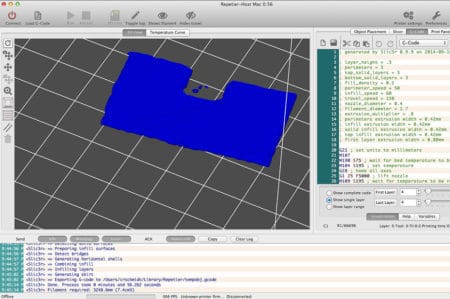 Repetier is an advanced open-source slicing and 3D printer host. This is the most favoured and popular slicing software among the active RepRap 3D printer community (but is compatible with most commercial FDM 3D printers). The platform includes useful tools such as multi extruder support (for up to 16 extruders!), multi slicer support (meaning that it is integrated with Slic3r, CuraEngine and Skeinforge slicers and can accommodate more), multi part printing, and more. Repetier Host also offers remote access features, via Repetier Server. Hence, you can install it on a Raspberry Pi or a computer, mobile or tablet and can access /control your 3D printer from anywhere via a browser.
Formats: STL, obj, 3ds
Price: Free
OS: Windows, Mac, Linux
Website: www(dot)repetier(dot)com
Pronterface is host software with a graphical interface for controlling your 3D printer. It is part of a suite of software applications for 3D Printers and CNC called Printrun. The software lets the users interactively control the machine, slice the objects from the host, save and run the code and print the objects. Pronterface is powerful and uses skeinforge or slic3r in the backend for slicing and can be used to control devices.
Formats: stl
Price: Free
OS: Windows, Mac, and Linux
Website: www(dot)pronterface(dot)com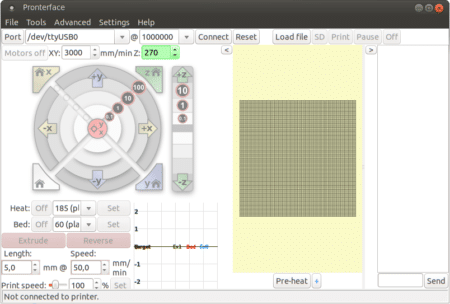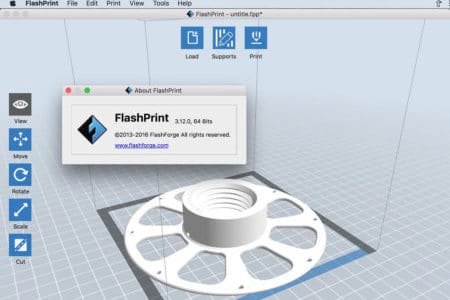 The Flashprint software is an in-house software program developed by FlashForge for use exclusively with the FlashForge range of 3D Printers for viewing, editing and slicing 3D files. It has an incredibly easy-to-use layout coupled with advanced algorithms to make slicing faster and toolpaths more efficient.  It's USPs include Custom supports including Linear or Tree-like supports, automatic error checking, STL editing and extremely easy interface.
Formats: OBJ, stl
Price: Free
OS: Windows, Mac
Website: www(dot)flashforge-usa(dot)com(slash)support(slash)downloads
OctoPrint is an immensely popular cloud based open-source tool that might be the best option for remotely monitoring and controlling your 3D print. It is a 3D Printer host, allows makers to wirelessly control and monitor every aspect of your 3D printer and your printing jobs right from within your browser. The 3D printer host software can also read G-code from 3D printer slicer programs, which, in combination with its gCodeVisualizer, allows makers to see their G-code files before and throughout the print.
Formats: stl
Price: Free
OS: Windows, Mac, and Linux
Website: www(dot)octoprint(dot)org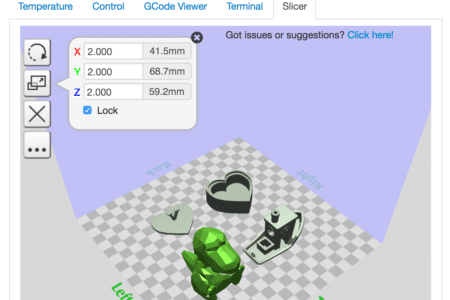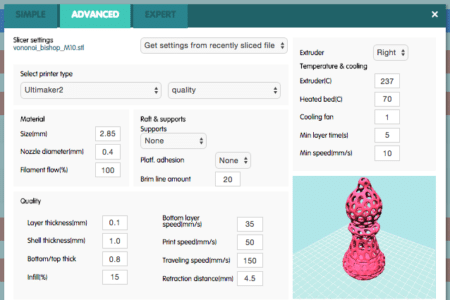 3DPrinterOS is a platform that empowers you to manage your printers and users without the complexity. It gives users the ability to search or upload 3d printable content, quickly and easily repair designs, customize settings, slice in the cloud and send files for printing anywhere in the world. 3D Printer owners and new users alike can share CAD files and multiple 3D printers all from a single cloud interface.
Formats: STL
Price: Free and Paid versions
OS: Windows, Mac, raspberrypi and Linux
Website: www(dot)3dprinteros(dot)com
AstroPrint is a 3D printing host software that replaces the software normally used to control 3D printers. It is based on Octoprint, the open source version, but has undergone sweeping changes to come to the current shape. AstroPrint allows you to Slice, Store & wirelessly print your STL files with the most optimal settings for your 3D Printer through a web interface remotely, using your smartphone or a computer. In addition, you can monitor your 3D printer and organize designs in the cloud.

Formats: STL
Price: Paid
OS: Windows, Mac, Linux
Website: www(dot)astroprint(dot)com