3D Printing of prosthetics for humans is something that has changed the world of people with disabilities. These new genre of prosthetics has brought a new ray of hope for these differently- abled people. Now this technology is all set to transform the lives of animals with disabilities. If statistics are to be believed then thousands of birds and animals get injured by vehicles, hunters or other animals and if not so then there are many who are born with some disability. 3D printing can be a great tool to help these animals to get back to normal course.
Recently, a Chihuahua named Turboroo who was born without his front legs went viral on the internet. The tiny dog which was abandoned by a couple because of his disability was adopted by Ashley Looper. The president of 3dyn, Mark Deadrick saw the puppy online and decided to help the puppy with the help of 3D printing. With the help of 3D printing technology he built a small wheeled cart to which he added a pair of rollerblade wheels. After which the puppy was good to go.
The other interesting story is that of a duck named 'Quack Quack' who was attacked by a dog and urgently required a surgery in his left leg. After the surgery it was discovered that Quack- Quack had an internal metatarsal torsion because of which he could not put his weight on that leg. This is when a company named Lung X Lung Designs along with Taipei Hackerspace decided to provide a solution to this problem with the help of 3D printing technology.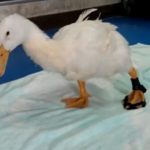 With the help of a 3D scanner the team created a mould of the foot of the duck and used the scanned to capture it in 3D. They then 3D printed the foot covering where the duck's foot would reside as well as a brace that would be attached to the leg. To take a print out of the foot a LCD 3D printer was used. The material that was used was NinjaFlex. This material is considered to be very flexible and this flexibility would allow it to perfectly fit to the foot.
This definitely shows that 3D printing is more useful that we can possibly imagine. The possibilities are endless.
Image source: downtownpetvet, lunglung design