The team of medical professionals at New York University's (NYU) Langone Medical Center, performed the most complex and complete face transplant on 41 year old Patrick Davidson, a volunteer firefighter who was injured seriously with severe burns while on duty in 2001.
The surgery which took 26 hours to complete, required team of more than 100 medicos including physicians, nurses, technical and support staff led by Dr. Eduardo D. Rodriguez.
"When I met Patrick and heard his story, I knew that I had to do all I could to help him – and every member of my team felt the same way," said Dr. Rodriguez. "His surgery sets new standards in facial transplantation and will serve as an amazing learning tool. We could not have helped Patrick without amazing teamwork."
In September 2001, Hardison entered into a burning home on a rescue operation. He suffered severe burns when its roof collapsed upon him and he lost his eyelids, eyebrows, ears, lips, most of his nose and his hair. Hardison could survive the accident only because he closed his eyes and held his breath, otherwise the smoke would have destroyed his lungs and eyesight. After undergoing more than 70 surgeries to restore at least some of his lost skin, he was referred to Dr. Rodriguez. In August 2015, David Rodebaugh matched the donor profile.
The team at NYU Langone worked in two adjoining rooms, in one room the donor's face was recovered and in the other the recipient's face and scalp burn was removed and the transplant took place. The surgical procedure required CT scans of both the donor and the recipient to create 3D models and 3D print cutting guides for perfect fit and precise placement of patient-specific metal plates and screws to ensure symmetry of the transplanted face.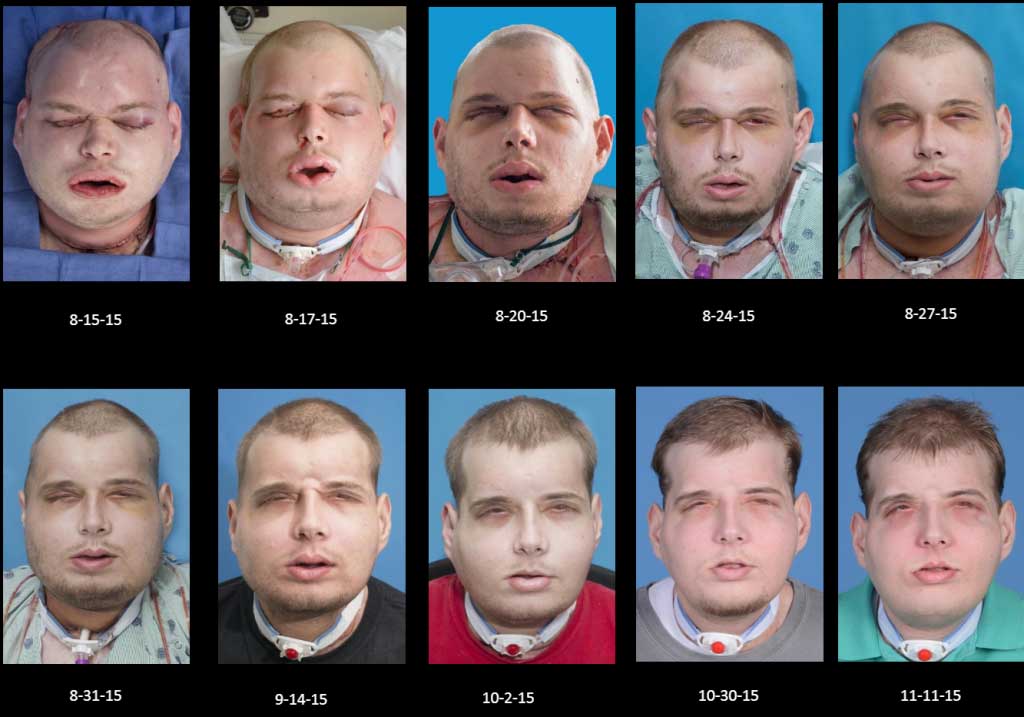 Though the operation has been a huge success, he will have to take anti-rejection medication for the rest of his life, undergo regular physical therapy to recover strength and improve his speech and lead a normal life.
"I am deeply grateful to my donor and his family," said Patrick. "Even though I did not know who they would be, I prayed for them every day, knowing the difficult decision they would have to make in order to help me. I hope they see in me the goodness of their decision. I also want to thank Dr. Rodriguez and his amazing team. They have given me more than a new face. They have given me a new life."