3D printing is by far one of the most interesting and happening technological advancements that mankind has seen in almost a decade. It is going to transform the way we make things. Many consider 3D printing as the next industrial revolution, a revolution much bigger than internet. To prepare the future generation for this revolutionary technology, think3D has launched a program targeting specifically academic institutions.
think3D shall offer 3D printer, 3D scanner, 3 kgs filament to the academic institution and also conduct 1 full day workshop as part of the package. The whole package will be offered for just INR 99,000.00 only  –  40% discount from the market price for the same specifications. If you are interested, contact us at info(at)think3d(dot)in or call at at (040) 3091 1007
Why bring 3D printers to classroom?
3D printing technology has been in the market for quite some time now. It has impacted various industries in a very positive way. But so far, the technology is restricted to very high technology industry. Only recently it started entering the mainstream market. It is changing the dynamics of consumer culture by transforming users from being passive consumers to active creators.
There is no better way to prepare the world for the onslaught of this new technology than by educating the kids. These kids become the future innovators and come up with out of box solutions to enhance the technology. We have seen this happen in computer industry wherein the kids exposed to the technology early built some amazing solutions that made the world a better place. Examples include Bill Gates, Steve Jobs, Mark Zuckerberg. The same is going to happen with 3D printing technology.
How 3D printing helps teachers
3D printers empower teachers by providing them three dimensional model which will act as visual aids. Teachers can use these in the class while teaching or illustrating a topic. This will undoubtedly increase the level of understanding of the student and also increase the grasping power. The attention of the students will be more in the class as the visual aids will make the subject interesting when compared to pictorial representation that is used nowadays.
How 3D printing helps students
With 3D printers it is possible to create 3D mini models with just the click of a button. This will bring into the classroom a highly interactive culture that makes the class interesting. 3D printing for education will undoubtedly add value in teaching a wide range of skills. The amalgamation of 3D printing and education is unique because it brings in the mindset of experimentation and the student becomes very comfortable with this idea in the learning process. It gives students the ability and freedom to design, engineer and test their own projects and also contribute to the digital manufacturing sector. Almost all the subjects can be dealt with the help of 3D printers. For subjects such as Science, Technology, Engineering, Mathematics, Physics, Design, Art, Law, Ethics, Psychology and Anthropology as well as several other fields which require physical models for illustrating situations 3D printers can be used.
Applications of 3D printing in various subjects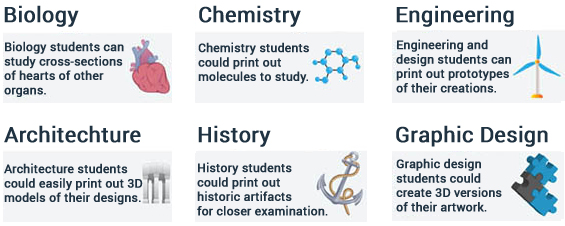 3D printing in Maths
3D printing helps students facing difficulty in grasping numbers and diagrams that they can only see on paper. They can touch and envision elaborate graphs and complex mathematical models. The video by the Simons Foundation is a perfect example to how this will be useful.
 3D printing in Geography
3D printing provides geography and geology students a better understanding of the geographical formations, mountain ranges, rivers, oceans, volcanoes etc. Recently a man used 3D printing technology to study the nature of earthquake.
 3D printing in History
History students could print out replicas of the historic artifacts for closer examination which generates more interest in the field. Imagine taking a print of bronze ware from Harrappa civilization to explain the students about the advances made by human beings during early civilizations.
 3D printing in Art
3D printing provides new possibilities for the art and design students. They can create 3D versions of their artwork and share the design with anyone.
3D printing in Biology
Students can print various human organs to study them in detail (for ex: Circulatory system, heart, lungs). This helps students grasp the concepts well.
3D printing labs
The best way to bring 3D printers to schools is to setting up 3D printing labs. 3D printing labs is similar to computer lab, biology lab, physics lab that schools have. Teachers can use these labs to print various models for their respective courses on demand or can also keep the models in repository and use them when teaching the students. Also, students can be given access to the lab once a week or so and they should create and print various models during this lab session. Imagine an assignment on design and showcase the planet Saturn. Students should be able to design the planet in 3D modeling software and then print that model using the 3D printer during lab time. Thereafter, they can showcase the printed model in the classroom to the fellow students. If a 3D scanner is also procured alongside the 3D printer then students can scan models using 3D scanner and then print them using the 3D printer. This helps in holistic learning experience.
Few case studies

The leading 3D printer manufacturing company MakerBot has developed a 3D student curriculum as a proto-type in the schools of New York. The CEO of MakerBot, Bre Pettis wants students to have an invention machine in schools that would turn their imagination into reality and if the idea doesn't print well in the first attempt the remaking of the same object all over again is the most important and powerful part.
Apart from MakerBot an educational consulting firm based in Texas named Engaging Solutions is escalating its efforts to bring this technology to the education market by the year 2014-2015. The main objective of this firm is to bring in advanced technologies into the classroom. Since the company is basically an education consulting firm, it hopes to achieve their dream by collaborating forces with the largest 3D printing company MakerBot and also because MakerBot has focused on markets such as engineering, architecture, designing and a couple of other consumer space. According to the CEO of Engaging Solutions, Erica Stietenroth, "3D printing is the quintessential disruptive technology in education today, revolutionizing the way students create, collaborate, and comprehend. It unleashes the potential of students who can now go from an on-screen concept to a 3D object they can literally hold in their hands and easily modify, refine, and enhance to achieve their desired results. The education market is perfectly suited for 3D print technology as a way to better engage students." The professional development specialist of Engaging Solution Mary Beth Kreml explained, "This capability takes student engagement into an entirely new dimension, students go far beyond Hear, See, and Do and now take the amazing leap to Create. When students work together to develop an idea and then watch it take form before their eyes, it makes learning real and exciting, and demonstrates what they are capable of achieving."
Here is a video which shows how 3D printing is empowering schools and universities.
If all these attributes are kept in mind, 3D printing does have some promising and ground breaking innovation that is bound to take the entire teaching and learning experience to a whole new level. This also gives the students a jump start to tomorrow's challenges. Many countries have started to use this technology as a part of their curriculum. Across Australia and New Zealand depends on cheap and affordable 3d printers. College departments such as Engineering, Computer Science, Architecture and Industrial Design depend heavily on 3D printing. Fields such as engineering require the students to be inspired towards the field in order to do something that is ground breaking. The starting of the engineering education is theory based which makes students detached from the subject. So if students are exposed to the breath taking world of 3D printing, they are bound to be engineers who are far sighted, have the capacity to think out of the box and also have a problem solving attitude.
think3D's Education Programs
think3D, India's largest online 3D printing platform launched various initiatives to bring 3D printing technology to schools and colleges. So far, think3D has been selling the 3D printers to various universities and companies. Given the positive impact these printers had on the companies and universities, the company decided to bring this technology to schools and colleges and imbibe a learning for 3D printing right from school days. As part of it, think3D launched a social initiative to use 3D printing to help visually impaired people.
3D printing for visually impaired

think3d came up with the idea to create 3D printed visuals for the aid of visually-impaired children. This initiative provided them a great support to their passion and their dreams. The students can understand and visualize the concepts of Physical Science and Life Sciences very easily with the help of these 3D printed models.
3D printing labs for universities

Ambalika Institute of Management and Technology (AIMT) Lucknow, one of top universities in Lucknow has partnered with think3D, India's largest 3D printer store to set up a state-of-art 3D printing lab at the institute in Lucknow, the first such lab in entire Uttar Pradesh. The AIMT-think3D lab is set up to do research on the upcoming 3D printing technologies, to educate students on this latest technology and also to provide consulting services to the industry in Uttar Pradesh. AIMT and think3D together aim to build a state of the art 3D printing lab in Uttar Pradesh with printers for all kinds of technologies like SLA, SLS, FDM, DLP, 3D scanners and so on.
3D printing for schools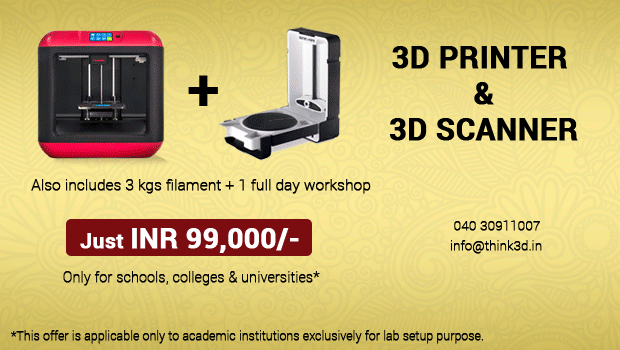 We, at think3D receive lots of requests from various academic institutions to set up 3D printing lab for their institutions and to provide training to their students. To address this need, think3D has launched a specific program exclusively for schools and colleges. The aim of this program is to promote 3D printing technology in schools, colleges & universities and set up 3D printing labs in India. think3D shall offer 3D printer, 3D scanner, 3 kgs filament to the academic institution and also conduct 1 full day workshop as part of the package. The whole package will be offered at INR 99,000.00 only – a 40% discount from the market price for the same specifications.
If you are interested in availing this offer, contact us at (040) 3091 1007 or email us at info(at)think3d(dot)in