3D printing technology has set its foot across various industries like the vast manufacturing industry, food industry, health and even tourism industry. Yes, we all are loving what this technology is creating. However we see that there's one area where we wish it improves – the speed. Well, as if some intention manifests quite faster. A team of young and experienced tech-savvy 3D printing enthusiasts came up with a solution. the Fastbot team, creator of BBP controller board. This is designed to maximize the speed a 3D printer by 4X.
Fastbot's BBP printer controller board is powered by an AM335x microprocessor. It has 1 GHz Cortex-A8 as its processors. The microprocessor consists of  5 or 6 stepper motor drivers, 6 endstops, 3 heaters, 6 fans, 1 microSD Card socket, 1 Ethernet socket and 1 USB socket for USB WiFi or camera connectivity.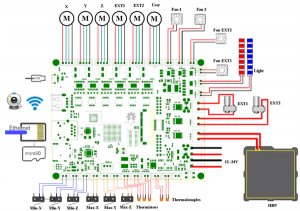 The 3D-Bit ARM and Programmable Realtime Units within the chip is helping the 3D printer to speed in that much times.
The FastBot team informs that they have created 3D printer firmwares (software data or programme written on ROM) so that one can fully use the BBP. With this, he adds, one can generate high frequency control signal. This is the main reason why the 3D printer is able to speed up.
One additional feature – you can connect to your USD WiFi dongle and print your object from wherever you want.
Along with the BBP the team has come up with an Android App to make it easier for the mobile users. This App integrates the 3D viewer and the slicer – to make any create or change any model and directly print through their mobile device.
To help make the 3D printing experience reachable to mobile users, the Fastbot team has also create an Android app that integrates the 3D viewer and the slicer – which essentially allows a user to create a model on a platform, also make changes if necessary. Then he can go for 3D printing directly through their mobile device, transferring the file via WiFi.
The board can also be used in other desktop fabrication machines including laser cutters and CNC mills.
But Fastbot teams's contribution did not just stop to the BBP. They came up with an advance BBP 1S, which is capable of handling multiple extruders which will come in handy if a user is thinking to print an object using multiple colours.
With a "kickstart" innovation like this one, the Fastbot team have managed to reach their fund goal of $10,000 in one day, even though they still have a month with them for their Kickstarter campaign to be over.
The BBP is available at $79 and the BBP 1S is available at $99 for early buyers at their kickstarter page.
In the previous article we shared how a Bowden extruder creates a scope where the printing speed can increase, but now that the BBP has entered the 3D printing market seemingly as a breakthrough. No longer an issue that the printing speed is supposed to bother any user. They will be able to print their desired objects in lesser time than before. Technology and human brain have surely challenged time, coming with innovations at the speed of light.