Ever since APWorks announced the creation of Scalmalloy, a high strength aluminum-magnesium-scandium alloy, the Airbus subsidiary has been very keen to show off exactly what the material can do. In an attempt to showcase the alloy, APWorks has built a fully functional 3D printed motorcycle. The vehicle is dubbed 'Light Rider' and it weighs just 35 kg.
The 3D printed Light Rider is around 30% lighter than conventionally manufactured e-bikes, can go from zero to 45 km/h in just three seconds, has a top speed of 80 km/h and has a battery life of 60 KM. This was possible because of its 3D printed frame which weighs just 6 kg. The body structure is optimized to eliminate mass where it is not required. To achieve this special structure, APWorks studied various bionic structures and natural growth processes to work out where material could be eliminated and where it needed to reinforcing.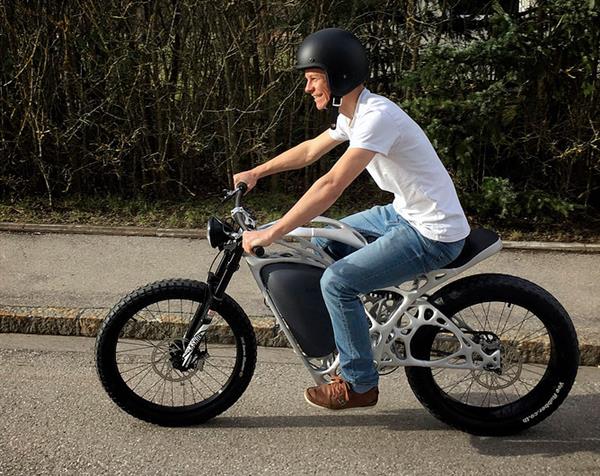 The creation of this e-bike was possible only because of 3D printing technology. "The complex and branched hollow structure couldn't have been produced using conventional production technologies such as milling or welding," explained Joachim Zettler, CEO of APWorks. "Advances in additive layer manufacturing have allowed us to realize the bionic design we envisioned for the motorcycle without having to make any major changes. With these technologies, the limitations facing conventional manufacturing disappear."
APWorks used SLS technology to create the incredible 3D printed frame. The Scalmalloy powder was deposited in layers of 60 microns thick each. By 3D printing these parts, APWorks was able to created hollow frame parts which allowed the designers to integrate cables, pipes and screw-on points directly into the motorcycle body.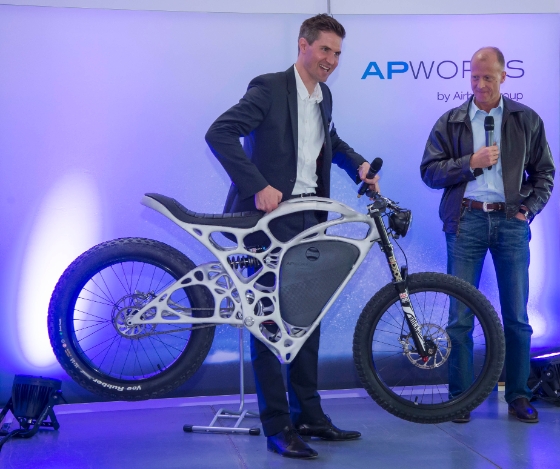 Scalmalloy, the aluminum-magnesium-scandium alloy used by APWorks to create the Light Rider's frame, is a corrosion-resistant material which exhibits titanium-like strength. Designed specifically for additive manufacturing purposes, the material combines strength with a high level of ductility, making it ideal for robotics, aerospace, and automotive 3D printing projects.
APWorks has always been at the forefront of additive layer manufacturing and advanced materials since its launch in 2013. "3D-printing technologies have revolutionized the design and manufacturing process – not only in terms of structure and aesthetics, but also in impressive weight savings on parts and equipment," says the company. "With the Light Rider we at APWorks demonstrate our vision of future urban mobility," said engineer Stefanus Stahl.
APWorks plans to build 50 more Light Riders, each available to buy for €50,000 each. A €2,000 deposit is required to join the waiting list.