3D Printing Technology has enormous potential when it comes to manufacturing jewellery items and fashion accessories. This is specially due to one of its features where one can create any design the way he or she wants to, using a desktop 3D printer. A combination of art and 3D printing is producing a plethora of talented jewellery designers across the globe where these talented group are able to create designs that were almost impossible to make using traditional ways of manufacturing.
Our childhoods are filled with memories where we must have played or expressed our deepest thoughts through crumpled paper-balls. Cambridge based design firm LuxMea, who are also into innovation and global strategy, used this concept and come up with  Skræp, an impressive set of jewellery designs and launched the campaign at Kickstarter.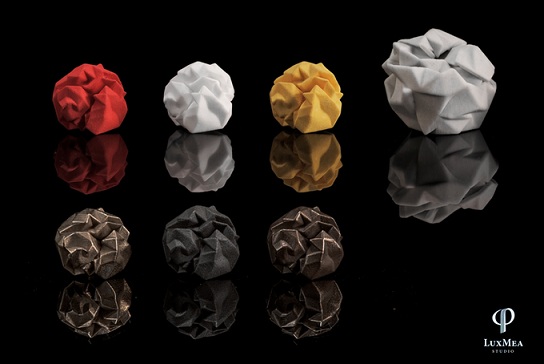 "Skraep is a jewelry concept with a deconstructed form inspired by the futile aesthetics reflected in a crumbled scrap of paper," the team explained, "With LuxMea's unmatched accuracy in 3D printing procedures, the charm and playfulness of crumpled paper can be recreated in a variety of materials with economic efficiency, allowing it to be enjoyed by consumers at affordable prices."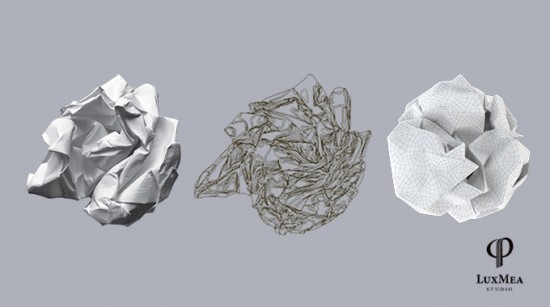 The team also explains that designing these "futility and chaos inspired" jewellery were indeed one of the difficult jobs they've done as the crumpling of the design that was managed during at the 3D modeling stage involves a lot of design efficiency – "Although it appears simple at first glance, a crumpled piece of paper is actually quite complex, its form determined by the interactions of dozens of folds. It's easy to create in your hands, but much harder to model and construct." The team further explains, "The most challenging part was to create a physics engine to objectively capture the extraordinary mathematical and structural complexity of crumpled paper."
The team says, "Frustration… Failure … Futility. These are the words you might normally associate with a crumpled piece of paper. But take a closer look and you'll start to notice additional characteristics: Complexity, Uniqueness, Unpredictability, Ethereality … We longed for those innocent days of childhood when we threw crumpled paper with words we couldn't speak out loud. And we want to bring those sweet memories back."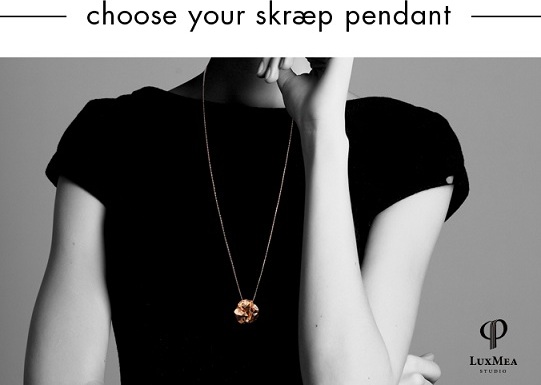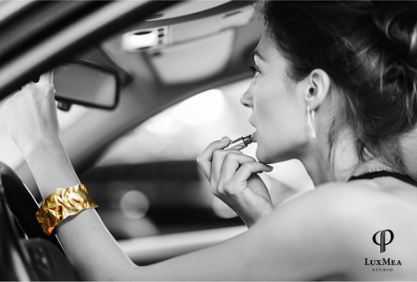 The gold-plated cuff costs you around $333 and as you can see they're also into gold-plated cuffs which ranges around $468 and the one made of solid gold will be around $6000. More information are available in their kickstarter page.
Article source: www.kickstarter.com