3D printing in food technology  is a slow growing area in 3D printing industry. The reasons for this is that the printers are pretty costly and the budding food entrepreneurs or home chefs are not been able to afford the machines as of now. Whether it's 3D printing a garnish for cocktail drink, decorating a wedding cake or finding optimized solution for NASA, researchers are already on the path of creating suitable software, 3D printers and edible filaments for the food manufacturing industry.
With 3D printing "food designers" are using their full creativity to decorate food toppings like the way they have always imagined… and maybe more..!! This edgy "marketing trait" (if you see) that a baker might try to give to his wedding cake might come up a bit costly.
But all problems don't last long, and 3D printing industry is no exception. A Germany-based startup named Print2Taste has a solution in the form of a 3D printer – Bocusini. Bocusini will be a standlone 3D printer. Additionally, Print2Taste will be providing a highly affordable kit for retrofitting someone's existing 3D printer.
Experts are of the opinion that even though it is a breathrough concept in the 3D printing food industry, the food-based extrudable filaments are going to be the game-changers for Print2Taste. The company claims to have done a lot of research before coming up with this 3D printer. They claim to have worked with "several leading academic and industrial food research and food".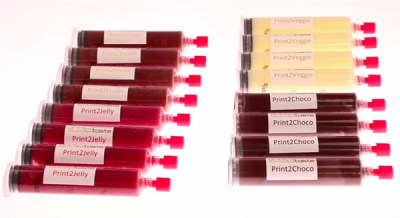 See image above of the different kinds of extrudable food filaments by Print2Taste – Among them are the Fruit Jelly, Chocolate, marzipan and etc.. The process is simple: Make sure you have a design ready. Send the file to Bocusini through WiFi, then load a cartridge as per your taste buds accordingly. then 3D print as the way you want it.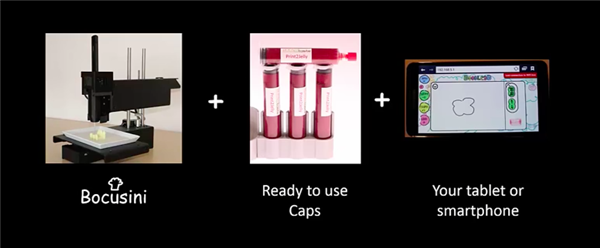 Bocusini is gearing up for its Kickstarter campaign which is due May, 2015. More updates will be on the way, soon when the Kickstarter campaign begins.
We at think3D defiitely sees this innovation as a cost-minimizing solution for the food 3D printing industry, especially for the ones who already own a 3D printer. Even though it is a little challenging one, especially when it comes to convincing the consumers (the one's who'll be consuming the food 3D printed) about the safety, but slowly and eventually we believe 3D food printing has started taking a logical stride. We hope more innovations prove to be more true and believable for consumers.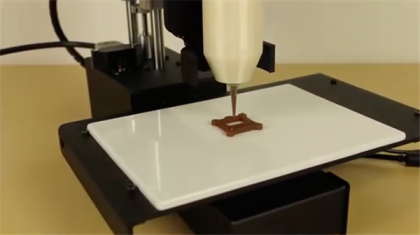 The end point looks like an injection point through which the "extruded" food filaments spews on the bed