3D printing technology or additive manufacturing technology is well-known as one of the key reasons for the disruption of traditional manufacturing technology taking place across all industries. But as much as this "new" technology is shaping industrial manufacturing processes it is also proven to be a boon to the bio-technical field for its notable contribution of cheap and long-lasting 3D printed prosthetics.
Another interesting news that will not just gain the interest of 3D printing enthusiasts but also this smart move may inspire large organizations in India (and abroad) to adopt 3D printing technology and use its potential for the betterment of humankind in various ways.


Korea-based NGO, FunMove has planned to reach the Indian shores by joining hands with one of the leading 3D printing news portals in India, Smartprinting and spread their knowledge on 3D printed prosthetics.
This is one of the noble moves of any companies as the south Korean NGO FunMove, famous for their 3D printed Galileo prosthetic hands, collaborated with Smartprinting to introduce open-source free 3D printed prosthetics for the needy population in India.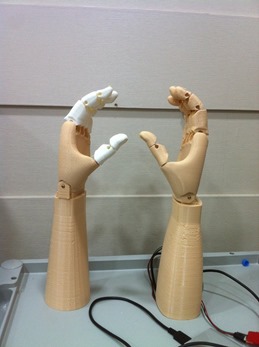 "FunMove is sending a team of biomedical engineers and robotic system engineers to India," Amit Arora of Smartprinting told to think3D. "These engineers would share the technology of their flexi-hand with their counterparts in India."
Through this collaboration FunMove intends to promote their Flexi-hand free of cost to the Indian market and take feedback from the patients for further R&D. "The aim of the partnership is to promote volunteer participation for the open-source humanitarian work of giving free prosthetics to the underprivileged population of India," Amit said.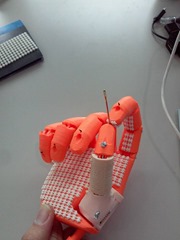 Amit's company already worked on open source 3D printed prosthetics with e-NABLE and now FunMove is another addition to their noble cause. It is needless to say that, apart from giving latest updates on 3D printing technology to the Indian masses, Smartprinting is also committed to the noble cause of introducing open source 3D printed prosthetics to Indian patients.

The collaboration has following action points:
1) Share video tutorials on how to print and assemble the flexi / Galileo hands on any low cost 3D printer.
2) Allow Smartprinting will acts as a facilitator for any Indian university, Company, NGO  or private individual who would like to setup a 3d Printing lab and print open source 3D printed prosthetics In India.
3) Allow easier collaboration between the two companies to make free learning materials for both formal and informal educators, as well as share the 3D design and printing elements of FunMove.
Anyone who's interested to attend the upcoming gathering arranged for FunMove's arrival and get more information on their future plans, they are free to attend the meeting on July 28th, 2015 at the Maker's Asylum, Mumbai, from 2:00 PM to 7 PM, IST.
For more information, you can check this link.