3D printing technology has also been widely used for implants that are being tailor-made for patients. German company Joimax, a leading medical device and technology developing company, got 510(k) clearance from USA governmental body that will henceforth enable them to market EndoLIF On-Cage 3D printed titanium implant.
The EndoLIF or Endoscopic Lumbar Interbody Fusion is basically a titanium alloy implant that is manufactured with the help of EBM or Electron Beam Technology. Like other cases we have seen earlier, EndoLIF can also be customized based on the needs of the patient – thanks to 3D printing technology.
German company Joimax, a developer of technology used in minimally invasive endoscopic spinal surgeries, said it received 510(k) clearance from the U.S. Food and Drug Administration to market its EndoLIF On-Cage 3D printed titanium implant.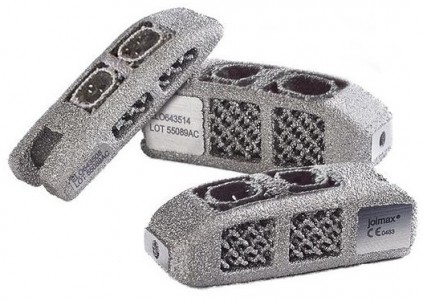 The EndoLIF is porous in surface and has diamond cell structure that enables cell proliferation and growth of the bone. German spine specialist, Dr. Illerhaus who've been performing hundreds of such surgeries in entire Europe along with his colleague Dr. Ralf Wagner, told, "The access is dura and nerve-gentle, preserves the dorsalbony structures and we can avoid scar tissue because of the stepwise tissue dilation."
CEO and founder of Joimax, Wolfgang Reis, said, "With the EndoLIF program, joimax offers a complete endoscopic-assisted solution for spinal stabilization and fusion. In the future, we will be able to treat patients with even more gentle techniques. Our next development will be an EndoLIF Cage on the basis of our iLESSYS Delta system for posterior lumbar inter-body fusion (PLIF)."
If you want to read more on how 3D printing is helping to create customized implants, then click here.