As much as 3D printing as a technology is flourishing and being embraced by various industries and corporate houses, educational institutions are now way leaving behind. Though there are talk that these teachers might be little skeptical except some of them have opened up to learn about this technology and enjoy the benefits of 3D printing. Some teachers, apparently, are even trying out to make one for themselves. Meanwhile students are guided to learn about the technology.
Dustin Klenke of Union High School, USA, a faculty of robotics, physics and biology, recently learnt the art of micro-stereolithographic (Micro-SLA, one of the methods of 3D printing which uses polymer and/or UV light) printing program at the National Science Teachers Association (NSTA) conference. The program happened to teach a full cycle on how to build your own 3D printer.
This process is unique, and might come in handy. Klenke tells how – "The process uses an SLA gel, but instead of a laser to initiate polymerization, an ordinary data projector focused through a $3 magnifying glass displays a 2D image of each layer," Klenke tells 3DPrint.com. "The images can be created with simple shapes in PowerPoint or slides. This solidifies an entire layer at once which eliminates the need for any moving components in the x and y-direction."
The project uses just a simple projector to create objects with layers of minuscule 400 nm. The whole project costs you just $20 (except the projector of course). Klenke also tells "The only mechanical piece is the elevator which precisely lowers the build platform after each layer has solidified".
The full size of the image which is to be 3D printed needs to be broken into several 2D layers. Each of these layers are loaded in PowerPoint slides. After every 2D image of the layer, an "all black" slide is kept.
The process is pretty simple. Fill a beaker with liquid polymer, meanwhile have the PowerPoint Presentations (PPTs) ready on a laptop or Personal Computer. The printing begins: the image on the PowerPoint slide is allowed to be displayed through the projector and reach the "stage" through a magnifying glass and a reflecting mirror. The image is exposed for 5 – 10 secs. After every 5 – 10 secs, an "all black" blank slide appears. Till this black blank slide remains, the stage on which the beaker is kept is lowered and the liquid polymer flows over the structure. This process repeats till the 3D printed object is achieved.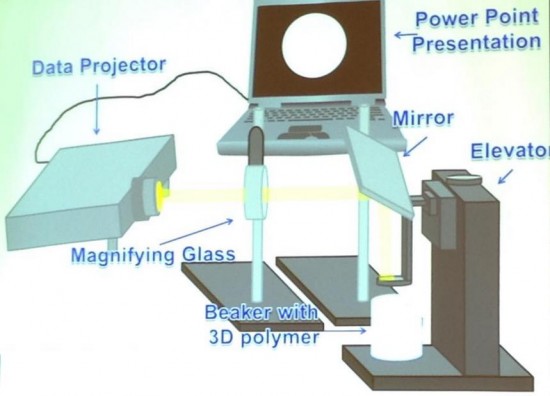 Anyone can create this 3D printer. And you'd need the following:
Drawer slide
¼ x 20 threaded rod
¼ x 20 t-nut
2" L-bracket (2)
3" straight bracket
Carpenters Square
1" x 6" wood
2" x 4" wood
Tape measure
Screwdriver
Wood screws
Saw
Hammer
Tin snips
Aluminum sheet metal
Sharpie
8 x 32 threaded rod
8 x 32 nuts
Drill (with 9/16 bit)
Dremel tool
WD-40 (Lubricant)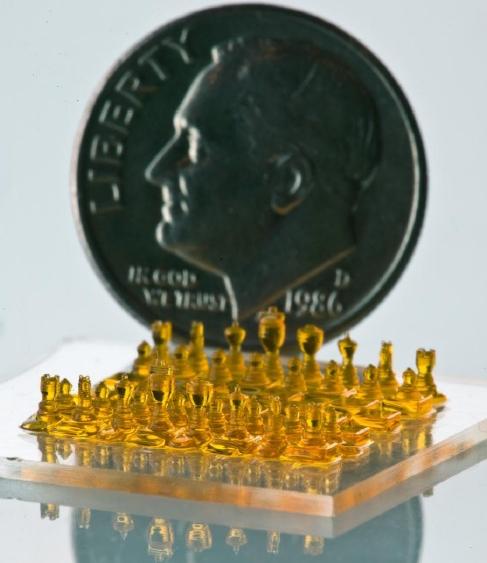 [image source: University of Illinois]