We have seen many interesting designs being created using 3D printing technology. As 3D printing scientists and enthusiasts have been putting a lot of their time and effort to modify and improvise on the existing 3D printers and 3D printing filaments and many of them came up with upgraded models as well as more useful filaments.
Taiwan, which is on the verge of becoming the virtual hub of 3D printing innovation in the world, has numerous developmental news to share with us. Recently, there has been a very profound development in the 3D printing technology in the Taiwan chapter when a non-profit organization, Industrial Technology Research Institute (ITRI) introduced its AM100 and AM250 3D Metal 3D Printers at its Southern Region Campus.

The event was adorned by models flaunting some of the attractive jewellery that were made, using the AM100 and AM250 Metal 3D printers.
The Directors of the Additive Manufacturing and Laser Application Department at ITRI, Horng Ji Bin spoke positive about the audiences about the capacity as well as the print speed of the machine. Apparently manufacturing any jewellery, utilizing these metal 3D printers is going to be lot easier for any designer because the process that involves 3D printing the jewellery sets is much more convenient and takes half the time than the that of the traditional manufacturing procedure.
Signifying the 3D printing process as the king and the output (i.e., the 3D designs) as the queen, Horng Ji-Bin said, "When it's the king plus the queen, the product will be the prince or princess. ITRI Southern Region Campus aims at providing the total solution for all the jewelry companies and designers to do its low-volume production."
"Simplifying the manufacturing process and breaking all the design barrier are advantages out of jewelry printing," said Horng Ji-bin.
ITRI collaborated with Tongtai Machine & Tool Co., S-Tech Co. and Chia Yi Steel Co. and few other industrial companies to bring forth the two revolutionary metal 3D printers. The collaborated team has plans to work on further developments relating to 3D printer manufacturing and 3D printing filaments.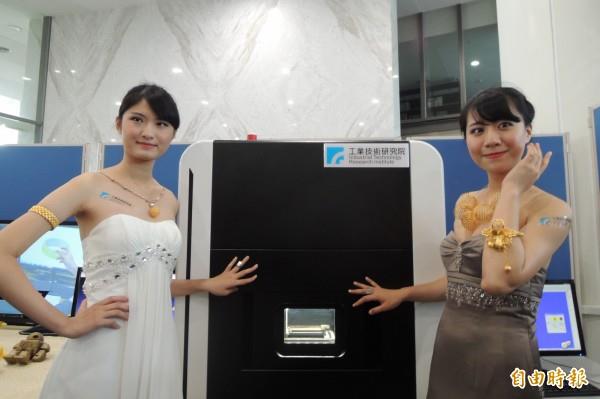 The 3D printers are given a suave look along with impressive build space of 100mm x 100mm x 100mm. Materials like stainless-steel, titanium alloy, and cobalt-chromium alloy are perfectly usable for 3D printing. Techniques, such as, Binder Jetting, Sheet Lamination and Directed Energy Deposition (DED) are incorporated into the machine.
For industrial purpose, this price has come out to be a shocking 33 Million USD which is almost half the price of the existing systems of metal printing in the market.