Over the past few years , 3D printing technology has been creating impacts across varied sectors.The waves created by 3D printing continue to rise and fall but when it comes to surfing and the art of surfing the waves seem to never subside.Surfing is a sport and a hobby that has been around for centuries, with people from all around the world, all walks of life, and of both sexes taking part, no matter how cold of a climate they live in. Surfboard manufacturers around the world have been experimenting with the design of surfboards and fins with the advent of 3D printing.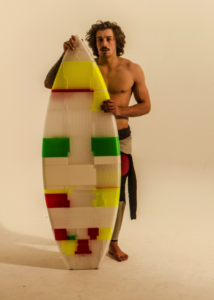 There is a guy named Robotham , who is currently a student majoring in Industrial Design at Victoria University in Wellington, New Zealand, he created a 48-piece surfboard made entirely from 3D printed components. Robotham began thinking about how he could create a surfboard that could collapse and fit into a duffle bag so he could more easily transport and carry it wherever he wanted to go. After contemplating various design ideas, such as a telescopic or folding surfboard, he finally came up with an idea for a jigsaw-like constructed version which he calls Jig-surf. After mocking up a a 1:5 scale design on Solidworks and then 3D printing it, he was able to pinpoint certain issues that would need to be corrected prior to printing out a full scaled version of his creation

In all, the surfboard consists of 48 jigsaw-like pieces, each of which took around 3-4 hours to print out. Robotham says that he also would print out multiple pieces on a single print bed, in a process that would take around 10-14 hours to complete. In all, the total print time needed to create this 5'9″ surfboard was around 6 full days.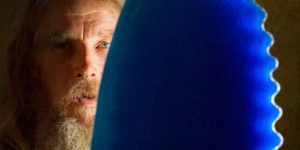 Prior to that, we watched as fellow New Zealand surfer Roy Stuart gained notoriety from the surfing community for his unique 3D printed Warp Drive fins.Roy Stuart started surfing when he was just four years old and he built his first surfboard in the garage using his grandfather's tools when he was nine.Stuart went on to build his first surfboard fin when he was fifteen, and by 1994 he and his wife were building and selling a line of wooden surfboards.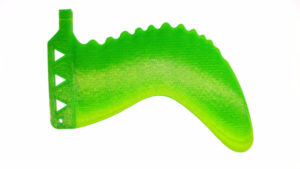 In October 2013, Stuart began offering the first 3D printed surfboard fin, and the rest is history.Stuart's fins are 3D printed in poly-carbonate and they take the biology of the humpback whale and the microgrooves of shark skin as inspiration.
With his Warp Drive Fins the native New Zealander says fins like the Bumpy Leading Edge Foiled (BLEF) spitfire fin were once painstakingly hand foiled in wood, a process which took over 40 hours of work. Stuart says the process of creating a custom fin that could be sent anywhere in the world at short notice is simply not possible using traditional methods and glass and plastic materials.Stuart says 3D printing has enabled the creation of lightweight, honeycomb cored fins which are tabbed for use with "Futures" fin boxes and universal single fin boxes.Designed in Solidworks, the fins are printed vertically using the FDM process to make certain that when the fin flexes, the various layers undergo the least stress.
Now, for those who don't have much experience riding upon the ocean waves, the fins of the surfboard might not seem to hold that much value, but those who are experienced surfers know that different fin designs can alter stability, control, and thus the overall performance of the surfboard.In New South Wales, Australia, researchers from the University of Wollongong have recently begun 3D printing surfboard fins that are tailored to serve the needs of the individual rider or the local surf forecast.Led by Professor Marc in het Panhuis, the Associate Dean of UOW's Faculty of Science,Medicine and Health, the research team has already 3D printed a number of surfboard fins, and are currently testing their functionality upon the waves.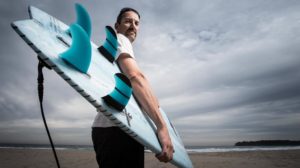 Thus far, the University of Wollongong researchers have tracked more than 1,400 waves and 1,100 turns, which has enabled them to pinpoint which parts of the fin need improvement. Professor in het Panhuis and his team are already in talks with a handful of Australian surfboard manufacturers, and are looking to first introduce their 3D printed fins to the coastal city of Wollongong, and hopefully thereafter across the oceans of the world. With their 3D printed fins, Dr. in het Panhuis and his research team hope to improve the art of surfing for all levels of experience as well. By tailoring each fin for the needs of each individual surfer or surfboard, the University of Wollongong is looking to help these wave-riders conquer the ocean with their own style and preference.