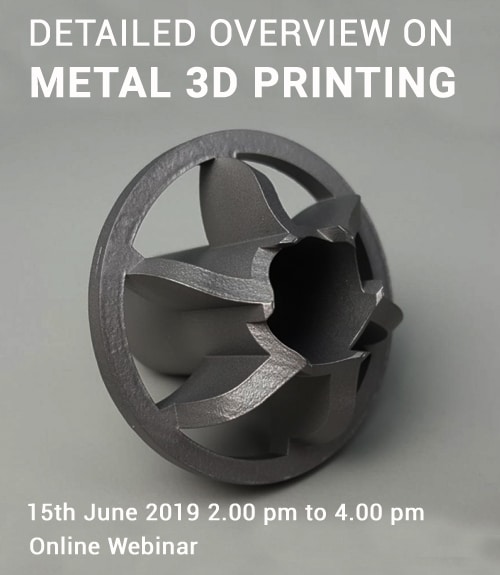 This workshop has already completed. Please check our latest workshops here.
Metal 3D Printing holds a unique position in modern-day product development for the direct manufacturing of complex parts. This technology is also known as Direct Metal Laser Sintering (DMLS). Unlike traditional manufacturing methods for construction products, metal 3D printing offers ready opportunities to create non-prismatic sections, internal stiffening, openings, functionally graded elements, variable microstructures and mechanical properties through controlled heating and cooling and thermally-induced prestressing. In this webinar, we shall give a brief overview of Metal 3D Printing technologies that are available in the market & in-depth overview of DMLS technology available with us. The total duration of the workshop is 120 mins (90 mins session followed by 30 mins Q&A). Below are the details of our webinar.
AGENDA
Introduction To 3D Printing
Introduction to think3D
Various Metal 3D Printing Technologies
Process Overview For DMLS
Components of a DMLS 3D Printer
Basic overview on DFAM principles
Sectoral Applications
Few Case Studies
Conclusion
ABOUT THINK3D
think3D has set up India's largest integrated 3D Printing service facility in Vizag, Andhra Pradesh in partnership with Govt. Of India & Govt. Of Andhra Pradesh. To spread awareness on this technology, think3D is conducting a series of workshops/webinars on a regular basis. Please click here to see our webinar calendar.