The two technologies we are talking about here are 3D printing and Nano technology. Israeli researchers have developed a low-cost solution for the production of carbon nanotube sensors that can be integrated into hybrid machine elements and used in small-scale electronics, such as wearable bio-sensors.This innovation has been developed by a research team headed by Prof. Yossi Paltiel from the Hebrew University's School of Computer Science and Engineering and Professor of Chemistry Shlomo Magdassi. 3D printing has made it possible for integrating the carbon nanotubes into a far wider variety of low-cost miniature devices such as sensors, emitters, transistors and other small interactive items.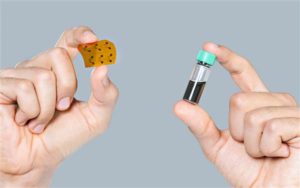 Although nanotube sensors already exist they are quite limited in their applications. Current nanotubes are opaque, costly to produce(especially for large arrays), have to be made on rigid surfaces and embedding them into very small objects is a difficult task.They believe to have found a solution in inkjet-based 3D printing. As they reveal in a press release, their custom 3D printing solution produces fixable hybrid nano crystal/carbon nanotubes that can be 3D printed onto flexible surfaces. This technique can even be used for sensors that are tunable at the UV-near infrared range by selecting specific nano crystals. What's more, it operates at room temperature and is, they say, inexpensive due to an effective use of materials and production space.
While the exact details of the technique aren't known yet, the Israeli researchers did say that it is easily scaled up and can be used on any type of (flexible) surface, even on cars or buildings. "[It can be used to integrate] sensors into mechanical components to produce a hybrid element that is able to perform mechanical functions and sense its own performance," they add. This makes it perfect for a variety of interactive (metal) systems and sensors, including radiation detecting equipment. The carbon nanotube sensors can also be used to build a Human Computer Interface (HCI).
The technology has already been patented, and a proof-of-concept has been produced. The researchers are now working to incorporate these hybrid elements into a variety of applications, including haptic devices, to showcase the technology's versatility. Meanwhile, the Yissum Research Development Company – Hebrew University's main driver behind commercialization of research results – is looking for commercial partners to assist in development.
This exciting nanotechnology breakthrough is one of the many innovations to have come out of the Hebrew University's Center for Nanoscience and Nanotechnology. Just over the past year, they filed 86 patent applications revolving around nanotechnology, and set up eight separate nano-based companies. It is expected that this 3D printing breakthrough by professors Paltiel and Magdassi will only serve to further boost ongoing projects at Hebrew University.