We know that Apple is one of the most trusted brands in the world, they are known for holding the image of being true-to-its-words for quality and deliver-ability. Recently they were back in the news as they launched the much anticipated Apple Watch.
3D Systems, a California-based company, is equally known for being the first movers and ambitious in terms of quality and creativity. Now, 3D Systems, along with FreshFiber will be coming up with a range of eyes-gazing designs for Apple iWatch bands.
3D System, forerunner in the 3D printing industry, acquired Amsterdam-based FreshFiber, on May 7th, 2012. FreshFiber at that time was the leading company in 3D printed consumer goods brand segment.
This year Apple officially launched its much anticipated iWatch on 9th March 2015. It is believed that iWatch contains features similar to iPhone 6, for eg., making phone calls, latest happenings on social networks, check traveling schedules, etc. Also, it is expected to give  18 hours of battery life, alongwith features and apps designed specifically for iWatch. In fact some models are available for customization.
As much as there will be proud and joyful feeling owning an iWatch, now thanks to 3D Systems and FreshFiber your iWatch can now sport attractive designs. Maybe, when 3D Systems decale, you can get your band designs customized. As of now 3D Systems stated that the designs are in Concept stage.
Some prototype designs by the comapany are given below.
Price of these watches is estimated to range from $349 to over $10,000, depending on the models.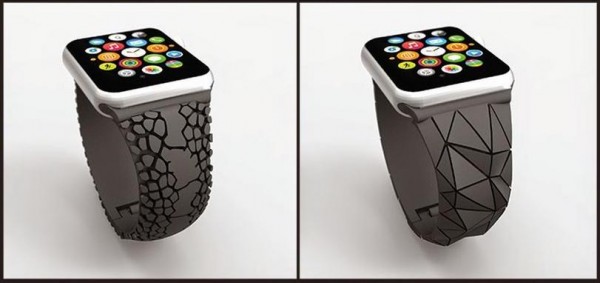 Alyssa Hoyt, Director of Marketing, 3D Systems tells "We're planning to do some interchangeable bands much like what we've done with the Nooka watches. There's no direct tie with Apple — this is just something we've been concepting for the watch and may extend to other smart watches."
They will use Everlast material (nylon) using Selective Laser Sintering machines of 3D Systems. These products will be available at Cubify. The pricing of the bands are yet to be finalized, but might be within the range of $40 to $99.
So even Apple will be adopting this technology to give an edge to its innovation. Cubify will putting up the bands for your pre-ordering, from April 10. Shipments will start on 24th of April, 2015.