Not everyday does it happen in the life of a 7 year-old Alex, a charming kid from Atlanta, that he gets to meet the Multi-billionaired Tony Stark of Stark Industries. But last Saturday he received the best surprise of his life.
Alex loves superheroes, likes biking and is into sports but he has one problem. He is born with a partially developed right arm. Even though heʻs okay about it, Albert Manero, an e-NABLE volunteer collaborated with his parents to gift this bright kid a 3D printed myoelectric prosthetic limb. They called-in the Hollywood actor Robert Downey Jr. This sure would have exhilarated the little one.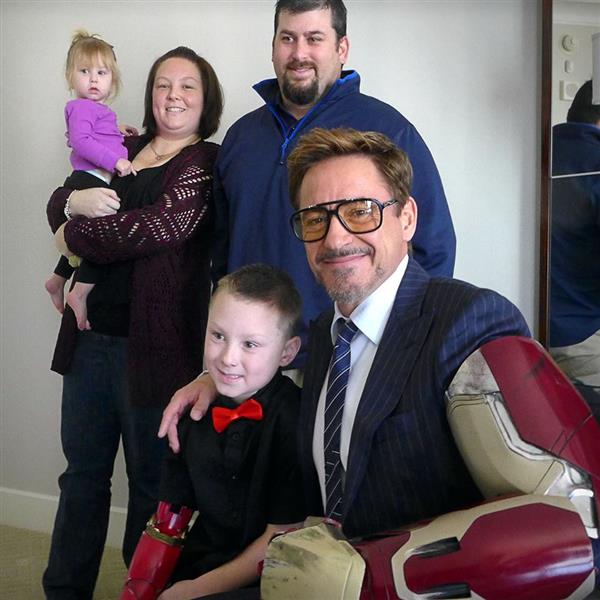 Albert Manero, an engineering student of University of Central Florida, started the "Limbitless Solutions", a non-profit organization. Manero and his team were caught by the noble thought of helping children with limb problems. The team also believes that the children shouldnʻt have to pay a penny for the prosthetic limbs.This organization is run on donations, plus chipping in some amount by Manero and the team.
Limbitless Solutions collaborated with Microsoft to develop open-source 3D printed bionic arms. The Bionic arms consists of sensors and tiny embedded motors that reads the neurological senses of the muscles and respond to them.
The prosthetic limbs are manufactured using the 3D printing technology. So eventually the price of the prosthetic arms become much lesser compared to regular ones which costs around thousands of dollars. This way the families whose child needs to change their prosthetic limbs as they keep growing, can afford to buy 3D printed limb.
Downey remarked, "Albert made it so affordable, I'm probably going to start farming out a lot of my tech work to Albert too."
https://www.youtube.com/watch?v=oEx5lmbCKtY
The Video is campaigned in the social media by The Collective Project, powered by Microsoftʻs OneNote. This was also shared in Downeyʻs fan Page, later this Thursday.