ABSTRACT :
This project demonstrates how 3D Printing enables Working Miniature Model and can integrate with Internet of Things so that it simplifies the demonstration of actual working of a traditional Cone Crusher. The entire project was approached as a full-time endeavour. Designing, Manufacturing, Assembly and Testing was undertaken by Think3D Labs, AMTZ campus, Visakhapatnam. A 3D design is designed by taking sample images and videos. Then with the help of Additive Manufacturing, Sheet Metal Fabrication, Laser Cutting and Water Jetting technologies we manufactured the various components of the model. Next task is to make it as a working prototype with the help of motors, electronics, drivers and programming.
Generally the demonstration of actual Cone Crusher is difficult to present, because of closed equipment is not possible to represent the internal working of it. The pictorial or video graphical presentation will not be an effective presentation. Thus 3D Printing helps to manufacture the prototypes of the desired size and make it functional. So with the help of cross-sectional prototype the demonstration can be made comfortable.
This report covers a broad range of engineering disciplines. The root of the system is an innovative mechanical design, manufacture and computerize for a Functional Prototype. The motors, electronics and drivers made the prototype functional whereas micro controller and programming allow for control schemes. It is anticipated that this work will be of value to a contrasting customers.
INTRODUCTION :
A Crusher is a machine used to disintegrate large rocks into small rocks, gravel and rock dust. It can be used to reduce the size, change the form and to differentiate the pieces of different composition. It is a process of transferring a force amplified by mechanical advantage through a material to deform. Crushers have many industrial uses in Mining, Brick and Coal industries. Different types of Crushers are Jaw crusher, Cone crusher, Compound crusher and Gyratory crusher etc.
Types of Cone Crushers
Compound Cone Crusher
Spring Cone Crusher
Hydraulic Cone Crusher
Gyratory Cone Crusher
Hydraulic Cone Crusher
1.Single Cylinder Hydraulic Cone Crusher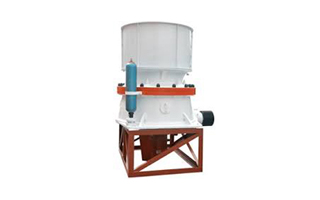 Single Cylinder Hydraulic Cone Crusher is similar to the spring cone crusher. In the crushing process, the main shaft and the moving cone are combined together, and at the same time, it is carried by the bowl-shaped tile tends to be simple and reliable, a hydraulic cylinder has a simple and compact structure has advantages in crushing soft rock and ore.
2. Multi Cylinder Hydraulic Cone Crusher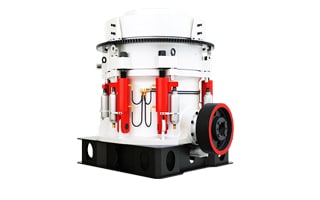 The main shaft of Multi-Cylinder Hydraulic Cone Crusher tends to be short and thick, and its diameter can be designed very large. It has a high content of fine particles, which will achieve a finer crushing effect, and a good lamination crushing effect.The top or side of multi-cylinder hydraulic cone crusher can be disassembled for quick and easy maintenance.
To fabricate a functional prototype, it is necessary to have a well designed mechanical system which performs the functionality of the Cone Crusher effectively. Among mechanical design this prototype involves cross sectional view of crusher which is difficult to balance the components and the types of forces present in the system will actually make the task complicated. The design presented in this can be manufactured entirely with the help of 3D printer, Sheet Metal Forming and other basic tools.
DESIGN-1
The design has become very challenging because the equipment consists of various components of distinct shapes and sizes. But the only data received were some Google images and Youtube videos. By taking those as reference we have designed individual mechanical components and assembled at the final stage of design.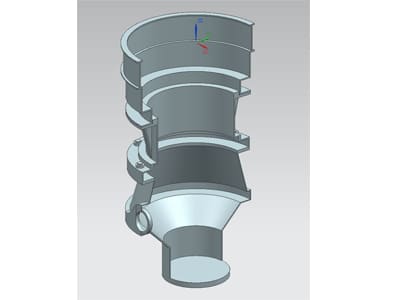 Design of Outer Part(Top, Middle, Bottom)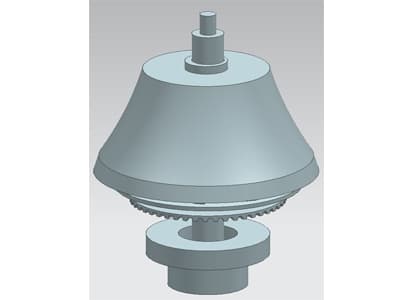 Design of Rotator Cup, Shaft, Bottom Base
DESIGN-2 (Assembly)
After designing all the individual parts, finally the assembly of all the components have done.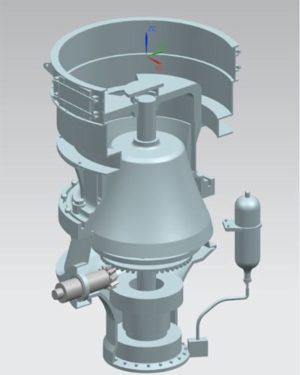 Isometric-View of Assembly Design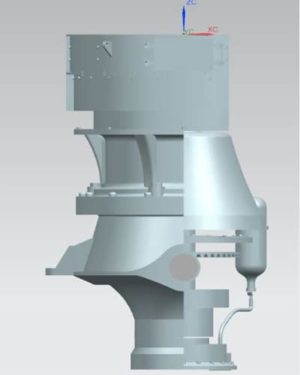 Side-View of Assembly Design
MANUFACTURING AND IoT INTEGRATION :
After the complete design is made, it is converted into .stl file and gone through 3D Printing for all the inner components of the equipment. For all the outer part of Prototype, Sheet Metal Forming and other basic required technologies are used.
Once all the fabrication work is completed, the parts have undergone painting for the finishing and the total equipment is placed on base stand. After that the motors, electronics, drivers are installed and electrical work is done to make it functional. Later on with the help Raspberry Pi 3 Model as the micro controller and programming has done in Python.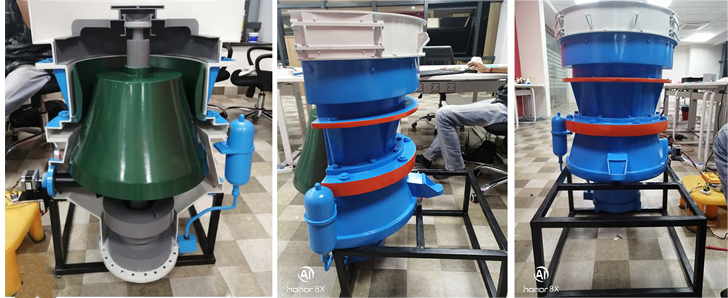 Final Design of Functional Cone Crusher 
IoT INTEGRATION
After the complete assembly of the Cone Crusher, for the functional purpose the motors, electronics and drivers are connected. With the help of Micro-Controller and Programming, the model can be operated with the help of tab for giving demonstration of various cases.
CONCLUSION :
Finally we have reached our aim in a span of 15days. The goals and expectations for this project have been achieved and we also procured good experience with IoT integration. It is hoped that our sincere and innovative efforts that is presented will fetches us several new project topics to be researched in the future.