Senior scientists, Arun Chandru, Dr Abdullah Chand and Dr Sivarajan T, of the Bangalore based biotechnology start up, Pandorum Technologies Pvt Ltd, have developed India's first artificial liver tissue using 3D printing technology, that resembles the original human liver tissues structurally and functionally.
This major breakthrough solves the complex liver transplant issues encountered mostly due to lack of donor. It also enables affordable medical research that helps in the study to develop more effective and cheaper drugs for liver diseases, reduced human and animal trials. Besides being used for drug testing, it can be used in full scale transplantable organs that can meet any demand.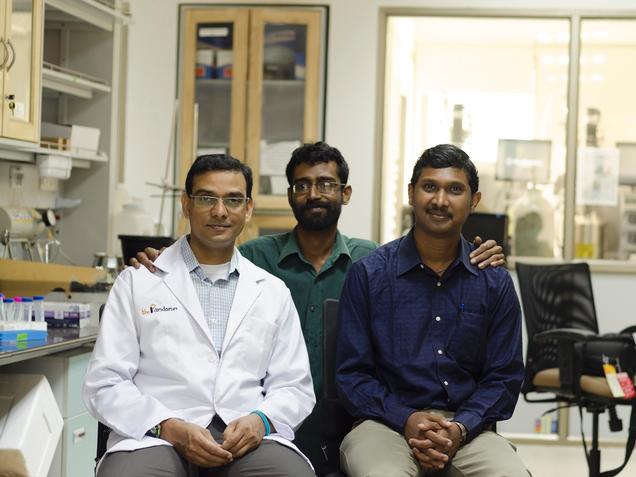 "Liver toxicity and drug metabolism are the key hurdles and contributors to failed human trials. Our 3-D bio-printed mini-liver that mimics the human liver will serve as test platform for discovery and development of drugs with better efficacy, less side-effects and at lower costs" said Arun Chandru, co-founder and director of the company.
The 5 mm sized liver tissues produced using 10 million human liver cells were arranged in precise three dimensional tissue architectures. These cells are encapsulated in a kind of hydrogel made up of glucose, proteins and living cells from an insect that acts as bio-ink. They are then bio-printed to from mini-livers using an indigenously developed 3D bio-printer. The cells in the hydrogel that were grown in an environment same as in human body were found to be living successfully for up to four weeks outside the human body.
According to the World Health Organisation (WHO), over 2 lakh deaths in the country occur due to liver related diseases and presently there is a requirement for 60,000 to 75,000 liver transplants in the country, out of which approximately 1,500 are being carried out. The artificial tissues would not only help in reducing the cost of carrying out medical research and transplantation costs by 20 percent to 30 percent, but also would increase the availability of organs.
"As much as $10 billion is spent on developing a drug. Drug trials on animals and using 2D models cannot exactly replicate the conditions of a human body. In addition to this, human trials take five to 10 years and even after all this, it is not exactly sure that the drug will work. On the contrary there are many clinical and medical applications of an artificial organ," said Arun Chandru, co-founder and director, Pandorum Technologies.
"We are able to print around 10 million cells currently. By 2020, we will increase our efficiency to printing one billion cells. It is only by 2030 that we will be equipped to print 100 billion cells, and it is then when we envisage to print on-demand organs for full-scale transplantation. It is a multi-billion dollar fast growing market, and we intend to continue being a leader. More importantly, our technology has the potential to impact millions of lives," said Arun Chandru.
Dr. Tuhin Bhowmick, who holds a PhD from the Indian Institute of Science, and co-founder of the company said, "This is a significant milestone being able to engineer complex tissues such as the human liver is no easy task. Development of artificial organs has numerous clinical uses. Cell based organoids can be used to develop bio-artificial liver support systems for preserving life in patients who have developed liver failure. In the near future, such artificial organs will address the acute shortage of human organs available for surgical transplantation.
About Pandorum Technologies
The biotechnology start up was founded in 2011 by Arun Chandru along with Tuhin Bhowmick, graduates from Indian Institute of Science (IISc), Bangalore, with main focus on developing bio-mimetic elastomeric protein based hydrogels for tissue engineering applications. Located in the Centre for Cellular and Molecular Platforms (C-CMAP), Bangalore, it is supported by grants from the Biotechnology Industry Research Assistance Council (BIRAC),
The startup has so far spent as much as Rs one crore on developing artificial liver tissue. Apart from liver tissues, the startup is also in the process of developing skin, pancreas and kidney tissues.