National Aeronautics and Space Administration (NASA) has been testing 3D printed rocket engine parts for the past three years and with its recent test,  NASA has moved one step closer to building a fully functional, high performance, completely 3D printed rocket engine that can power a Mars Lander.
Turbopumps, injectors and valves constitute 75% of the parts required to build a 3D printed rocket engine. All these three parts have been tested individually and showed exceptional results. The NASA team at the federal agency's Marshall Space Flight Center in Huntsville, Alabama, in it's recent series of tests this October, connected together all these three 3D printed parts to build the engine prototype that can work the same as in a real rocket engine.
"We manufactured and then tested about 75 percent of the parts needed to build a 3-D printed rocket engine," said project manager Elizabeth Robertson. "By testing the turbopumps, injectors and valves together, we've shown that it would be possible to build a 3D printed engine for multiple purposes such as landers, in-space propulsion or rocket engine upper stages."
The 3D printed engine was subjected to extreme conditions and was test fired with cryogenic liquid hydrogen and liquid oxygen which burned at 6,000 degrees Fahrenheit to produce more than 20,000 pounds of thrust. The turbopump supplied liquid oxygen at temperatures of less than -400 degrees Fahrenheit. In all, the team conducted seven tests out of which one of them lasted for 10 seconds.
"In engineering lingo, this is called a breadboard engine," said testing lead Nick Case. "What matters is that the parts work the same way as they do in a conventional engine and perform under the extreme temperatures and pressures found inside a rocket engine. The turbopump got its 'heartbeat' racing at more than 90,000 revolutions per minute (rpm) and the end result is the flame you see coming out of the thrust chamber to produce over 20,000 pounds of thrust, and an engine like this could produce enough power for an upper stage of a rocket or a Mars lander."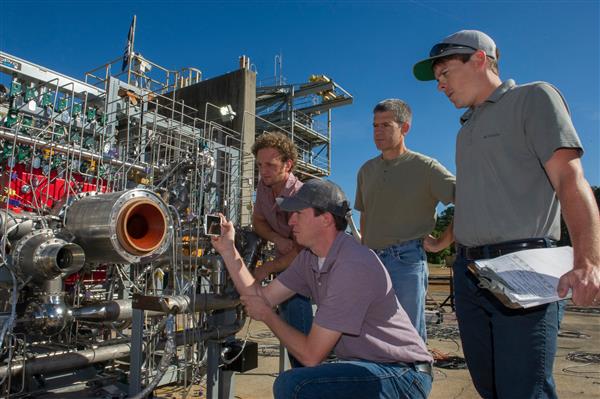 All the parts were manufactures by selective laser melting 3D printing process. Officials of NASA explained that 3D printing technology reduced the total number of components required than typically needed thereby reducing costs and saving time. For example, the 3D printed injector had just two parts compared with similar pumps which usually consist more than 200 parts made with traditional methods . Valves which usually take more than a year to build, took just two months. In future, the team plans to perform engine tests with liquid oxygen and methane, gases that are present on Mars, which will be the major propellants for Mars Landers.
"This new manufacturing process really opened the design space and allowed for part geometries that would be impossible with traditional machining or casting methods," said propulsion designer David Eddleman. "For the valve designs on this engine, we used more efficient structures in the piece parts that resulted in optimized performance."
For more information on materials characterization and performance of the parts, request for access to NASA's Materials and Processes Technical Information System (MAPTIS).