Multi Jet Fusion offering you more possibilities for complex, lower-cost parts. Whether used in serial production for single parts or batch manufacturing of multiple part numbers.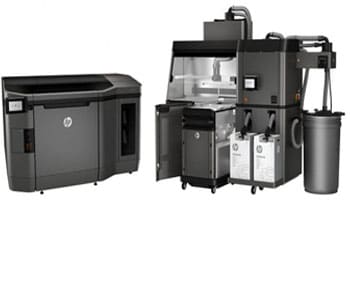 WHY CHOOSE THINK3D
think3D has one MJF ( Multi Jet Fusion) machine in-house for models which require crisp textures, surface details or labels. It's also a good material for highly complex parts with lattices and hinges.
Multi Jet Fusion is a powder-based technology but does not use lasers. The powder bed is heated uniformly at the outset. A fusing agent is jetted where particles need to be selectively molten, and a detailing agent is jetted around the contours to improve part resolution. While lamps pass over the surface of the powder bed, the jetted material captures the heat and helps distribute it evenly.

Multi Jet Fusion's unique build style includes fusing and detailing agents within a powder-bed fusion process. The build begins with a thin layer of powdered material being deposited across the build platform. Droplets of fusing, detailing and transforming agents are applied along with thermal energy on top of the powdered material to define the part's geometry and properties.
The process continues layer-by-layer until a complete part is formed. After the print is finished, the build unit with the material and parts are rolled onto a processing station for cooling and powder excavation.
Multi Jet Fusion is ideal for hidden parts like complex ductwork, connectors or non-cosmetic housings. The process produces parts with extremely fine details, exhibiting small intricacies in complex designs such as embossed text, small holes or living hinges.
When it comes to build, the core difference between Multi Jet Fusion and Laser Sintering is the heat source. LS uses as CO2 laser to sinter cross-sections, while MJF uses the fusing agent to promote the absorption of infrared light.
High production speed
High process/post process automation
Low-volume production of complex end-use parts
Prototypes for form, fit and function testing
Prototypes with mechanical properties to rival those of injection-molded parts
Series of small components as a cost-effective alternative to injection molding
PA 12 (MJF) :   
Polyamide
High density & low porosity
Lead time: 5 working days
Maximum part dimensions: 380 x 284 x 380 mm(15 x 11 x15 inches)
| | |
| --- | --- |
| Standard lead time | Minimum of 5 working days, depending on part size, number of components and finishing degrees |
| Standard accuracy | ±0.3% (with a lower limit on ± 0.3 mm) |
| Layer thickness | 0.08 mm |
| Minimum wall thickness | 1 mm, but living hinges are possible at 0.5 mm |
| Maximum build dimensions | 380 x 284 x 380 (15 x 11 x 15 inches) |
| Surface structure | Unfinished parts typically have a smooth surface, without visible layers, and a stone-grey color. Multi Jet Fusion parts can be sandblasted and colored/impregnated. |
Gallery
Case Studies