MJP or MultiJet Printing is an inkjet printing process that uses piezo printhead technology to deposit either photocurable plastic resin or casting wax materials layer by layer.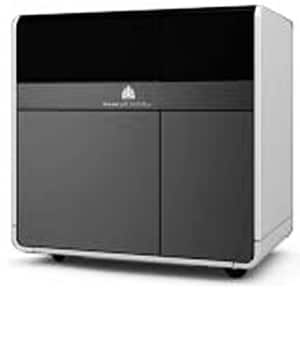 WHY CHOOSE THINK3D
think3D has one MJP ( Multi Jet Printing) machine in-house to produces micro-detail wax patterns with outstanding surface quality and extremely fine features, ideal for intricate direct investment casting applications, such as jewelry.
MJP is used to build parts, patterns and molds with fine feature detail to address a wide range of applications. These high-resolution printers are economical to own and operate and use a separate, meltable or dissolvable support material to make post-processing a breeze. Another big benefit is that removing support material is virtually a hands-free operation and allows even the most delicate features and complex internal cavities to be thoroughly cleaned without damage.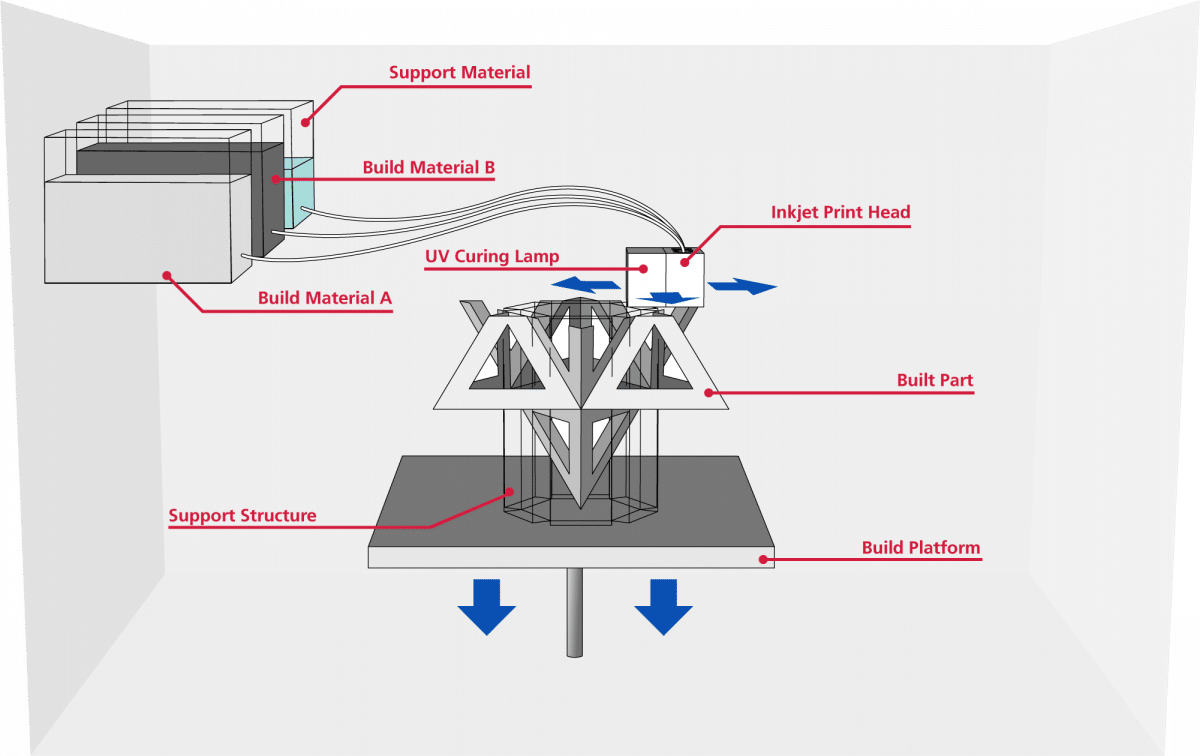 MJP printers offer the highest Z-direction resolution with layer thicknesses as low as 16 microns. In addition, selectable print modes allow the user to choose the best combination of resolution and print speed, so it's easy to find a combination that meets your needs. Parts have smooth finish and can achieve accuracies rivaling SLA for many applications. Recent material advances have improved the durability of plastic materials and are now suitable for some end-use applications.
One nice point about MJP printers is that they are office compatible, using standard office electricity to provide convenient and affordable access to high-quality prototypes and indirect manufacturing aids. Office compatibility in concert with their capabilities make MJP printers ideal for direct investment casting applications in jewelry, dental, medical and aerospace applications where digital workflows provide significant time, labor, quality and cost advantages.
MJP wax printers also offer a digital drop-in alternative to traditional lost-wax casting processes, eliminating time consuming and costly process steps while utilizing traditional casting methods and materials. All in all, these printers can print virtually any geometry and provide scalable high-volume throughput.
Concept modeling

Communication, sales and marketing model
Rapid design iteration for rigid plastic or elastomeric products
Validation prototyping

Design verification and testing
Assemblies validation, including snap-fit
Water-tightness applications, fluid flow visualization
Functional testing of plastic and elastomeric products
Educational functional prototyping
Get more parts faster with an effective file-to-finished-part process
Create high-fidelity parts you can rely on
Enjoy exceptional sharp edges and fine features definition
Greater geometric freedom with effective support removal
Choice of plastic and elastomeric materials engineered for performance
Use a MultiJet modeling machine that's designed for your work environment
Low Total Cost of Ownership (TCO)
∗VisiJet® M2R-WT (Rigid White, General Purpose)
∗VisiJet® M2R-BK  (Rigid Black, General Purpose)
VisiJet® M2G-DUR (VisiJet ProFlex, PP-like)
VisiJet® M2R-GRY  (Rigid Gray, High Contrast)
VisiJet® M2G-CL (VisiJet Armor, Clear, ABS-like)
VisiJet® M2R-CL (Rigid Clear, General Purpose)
VisiJet® M2-EBK (Elastomeric Black, High Flex)
VisiJet® M2-ENT (Elastomeric Natural, High Flex)
Build Mode
High Definition (HD)
Resolution
800×900×790 DPI
Build Speed (in/hr) in Z
1 Lane:0.29
2 Lanes:0.22
3 Lanes:0.14
mm/hr
1 Lane:7.3
2 Lanes:5.5
3 Lanes:3.5
Build Speed (hr/in) in Z
1 Lane:3.5
2 Lanes:4.5
3 Lanes:7.3
hr/mm
1 Lane:0.14
2 Lanes:0.18
3 Lanes:0.29
Build volume
11.6×8.3×5.6 inches (294×211×144 mm)
Layer thickness
32 micron
Material
UV Curable Plastic
Accuracy-per Inch of part dimension typical
±0.004 inch per inch (±0.1016 mm per 25.4 mm) of part dimension
After the part(s) completed the printing process, there are steps that must be followed before it can be considered finished. Follow these steps to remove the build Support Wax from the part(s).
Supplies Needed
Paper Towels / Absorbent Pads
Nitrile Gloves
Insulating Gloves
Safety Glasses
Protective Clothing (lab coat, protective sleeves)
Equipment and Tools Needed
Two MJP EasyClean warmer units capable of heating to 100°C (212°F)
Fine wax removal fluid (such as EZ Rinse-C or mineral oil)
Gallery
Case Studies