By now, I am sure all of you are getting a good idea about what 3D printing is capable of. The pool of talented 3D printers have designed cars, stationary items, showpieces for home decor, soft toys, even full-size homes. These designers are making the full use of this technology to express their creative thought process and have been giving it the shape they have desired, to every extent – in the 3D way. In short they are living their dreams. And more importantly, it's not pocket-pinching anymore….
We have seen jewellery designers (whether he or she's aspiring, a students or a full-time professionals) given mind-blowing shapes to their jewellery, something that can be a bit challenging for someone to try it in the traditional way. But have you heard of anyone designing jewellery using AUDIO file ???!!!! I think, not!
Instructables.com member 10DotMatrix have introduced this innovative idea at the Instructables website. (Instructables is a 10 year old company originally founded by  Eric Wilhelm and Saul Griffith, and later on Autodesk Inc. acquired it). According to 10DotMatrix you can actually use your voice file and convert it into a 3D printing file.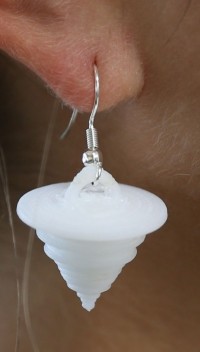 You can execute the process following the easy steps:
1. Download a free audio-editor software named Audacity. Using this software you can record whatever it is you want to print it.
2. Save these files by exporting them at the LAME mp3 encoder.
3. Download Processing. Then use Processing and the script by Thiago Hersnan to convert those audio mp3 files into wave forms.
4. Download the file saved as "AudioConverter".
5. Then use GIMP to convert these files into svg files.
6. Convert the svg file into a 3D printable file using Fusion 360 (or any other 3D modelling software). Just make sure you rescale the design file into a printable size. Use 'Revolver' option with a 360 degree angle to give the file a 360 degree shape.
7. Finally export the STL file. Then you can 3D print.
You can use any filament you want. But the ones in the image are 3D printed using ABS filament which gave it a smoother look. If you are choosing ABS then it is recommended that you preheat the build platform, using a 0.15 mm resolution. Cover the build-plate with kapton tapes.
This 3D printed jewellery created from sound waves are inspired from the chess pieces made Thiago Hernan.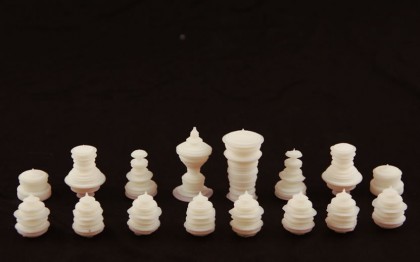 Thiago Chess Pieces
Now 3D printing your favourite jewellery won't be a problem anymore. Whether you are a jewellery designer or not, this one-of-a-kind innovation along with the guidelines specified above can come as a breather for you.
So now wear your thoughts! Soon, we at think3D hope that the whole process gets automated and you can 3D print as much as jewelries as you want.
These sounds waves gives the shape of the jewelry