If you want best quality products in low cost, then 3D printing is the way. Researchers and biotechnologists have used 3D printing as a tool to produce low-cost prosthetic limbs, that would have otherwise costed thousands of dollars if manufactured using traditional manufacturing techniques.
In the past we have seen how doctors came about saving the life of a teenager when they discovered a serious aortic complication in her heart. And in many cases 3D printing enthusiasts cum dog lovers made 3D printed wheelchair for our four-legged friends.
While the utility of 3D printing technology was becoming more and more prominent, 27 sophomore students pursuing the Interior and Product Design (IAPD) program at Kansas University, were busy developing 3D printed skin for prosthetic limbs, as a part of their semester end project.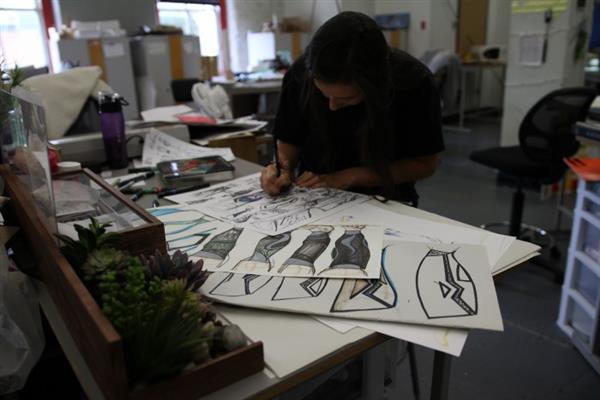 These 27 students were given a task to design & manufacture "customized" skin for 6 chosen individuals who wear prosthetic limbs. Associate professor and facilitator of the IAPD studio, Dustin Headley informs that this project is unique, as the prosthetic skins are going to be made of a silicon-like flexible resin that will dramatically reduce the cost of a prosthetic skin, which when made traditionally costs around $1000. The students are claiming to make all the 6 individual type of skins within that cost.
"Prosthetic skin in general is not a new thing, but it is a very costly thing,"  Headley wrote in the school's blog.
This project is also an extension of a human empathy project which the students worked on at the beginning of this semester. As a part of the project, the students had gone to the extent of experiencing sensory deprivation to stimulate loss of mobility, sight and hearing. This exercise has let them gain sympathy for the brave ones going through the exact issues everyday in their lives.
"It really is an immersive experience where the students are not only being educated on some technical issues involved in making 3D printing and digital modeling, but also the result of that is not just an academic exercise. But it is something that is actually given to the participants," added Headley.
Rather than building 3D printed prosthetic arms, the students chose to 3D print skins. This is something which is innovative as a concept.

"Now as designers, we have the capability to change someone else's world," said Hana Robinson, one of the 2nd year students who actively participated in this project.
This project has helped Robinson to realize that the unbound potential 3D printing can really change people's lives forever. "Now as designers, we have the capability to change someone else's world," Robinson told.
The interior and product design student Hana, also wants to help her swim coach's son, who has muscular dystrophy, so that he'll be able to swim like his father. "That little boy is incapable of swimming, and he just wants to be like his dad," she adds, "I want to design a product that would enable him to do that, and I think this project helps me realize I can."
Prof. Headley adds, "As designers, this is our way of contributing back our education."
Not just professionals such as doctors, artists, biotechnologists, but also students from various disciplines are realizing everyday what 3D printing technology holds for the future. This is gradually building a new career roadmap altogether for budding engineers and designing students.